Letters from Amsterdam: Fourth and Fifth (Final) Letters, April 15 and May 10, 1979
April 2022
By Dianne Apter
Author's note: Letters From Amsterdam is a recounting of an idyllic time our family spent in 1979 in The Netherlands, in Amsterdam. Although I have taken a few liberties with names and timelines, the stories I tell are all true based on the letters I wrote home to my parents and in-laws. Our kids were 6 and 3 years old and the piece tells of their school experiences and our lives through their eyes as well as my own. Our day-to-day life related in these stories has come to mean much more than the trip diary I kept filled with appointments, sites we visited, and descriptions. Those entries one can find in any tour guide book.
April 15th, 1979: Flowers everywhere, every corner, every home. I now understand why our apartment came with all those vases. The daffodils and tulips stretch across the window shelf in our living room.
We have been traveling throughout the Netherlands. Trams, trains or bus, no distance in this small country takes more than a few hours' time. These journeys often involve speaking engagements for Steve or for both of us. Our girls often come with us. Two little girls sit on the floor in the back of the lecture hall, with their toy bags to keep them occupied. Occasionally, a kind secretary will take interest and volunteer to entertain. We are truly amazed at how adaptable and adorable our kids are. Sometimes we are paid for our work, but most often our hosts open their homes to us and we are treated to dinner and a place to stay. If our talk is in Amsterdam, babysitting and dinner at a restaurant is covered. Once we were paid with gorgeous flowers! In any case, we are happy with the arrangements that let us explore all corners of the Netherlands, with a bonus of meeting people with similar professional interests. We also lucked out on the babysitter front. Syracuse University has a semester abroad program in Amsterdam. By a happy coincidence, Rachel's beloved student teacher from her Syracuse nursery school is in that program. LuAnn lives with a Dutch family, which is sometimes stressful for her as they have no young people themselves. Coming to our house is a treat. Steve and I have even taken a few overnights while LuAnn babysits. The kids love her so it's win-win-win.
Dutch towns all have a personality of their own. The small villages are postcard-lovely and steeped in history. Visits to Gouda and Edam offer us their famous cheeses, while Delft presents her famed blue-and-white pottery depicting Dutch landscapes, windmills, and canals. We enjoy wandering in real life on the winding cobbled streets, stopping on the small bridges that cross the many canals, or visiting a local museum or an old church. The churches are gorgeous in either their simplicity or lavishness. There are always beautiful parks, forests, or walking paths. Those well-known pictures in children's books pop off the pages; the art viewed in fine galleries and museums fly off their walls into reality. The scenes in front of us show farmers wearing wooden shoes as they tend their fields, and women in traditional Dutch bonnets working in their gardens. The windmills with their slow rotation dot the panorama. During one stop, in Alkmaar (another famous 'cheese' town), there were four windmills alongside the canal path we were strolling. We wonder why this unique way of generating power is not in use in the United States.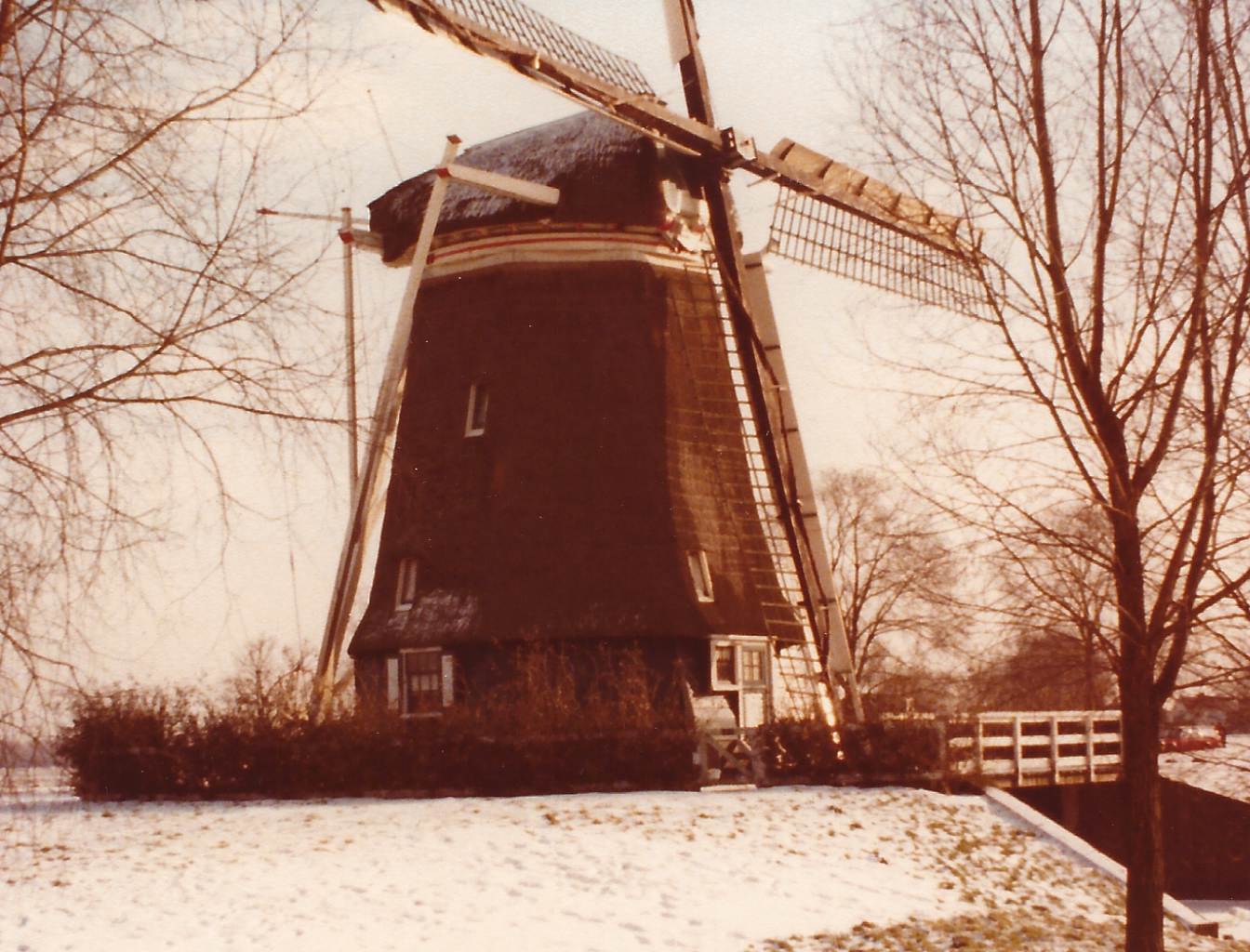 We visit the famed Keukenhof gardens with its seven million tulips, hyacinths, daffodils, and irises (and 800,000 visitors in March, April, and May!). The spectacle of colors is breathtaking viewed from the train window as we travel the thirty minutes to Keukenhof and back home. The tulip fields seem to extend to the sky. Picture a plush carpet stretching across a vast living room with shades of colors way beyond any box of crayons you may have owned. We hope the bulbs we buy arrive in Syracuse in time for fall planting.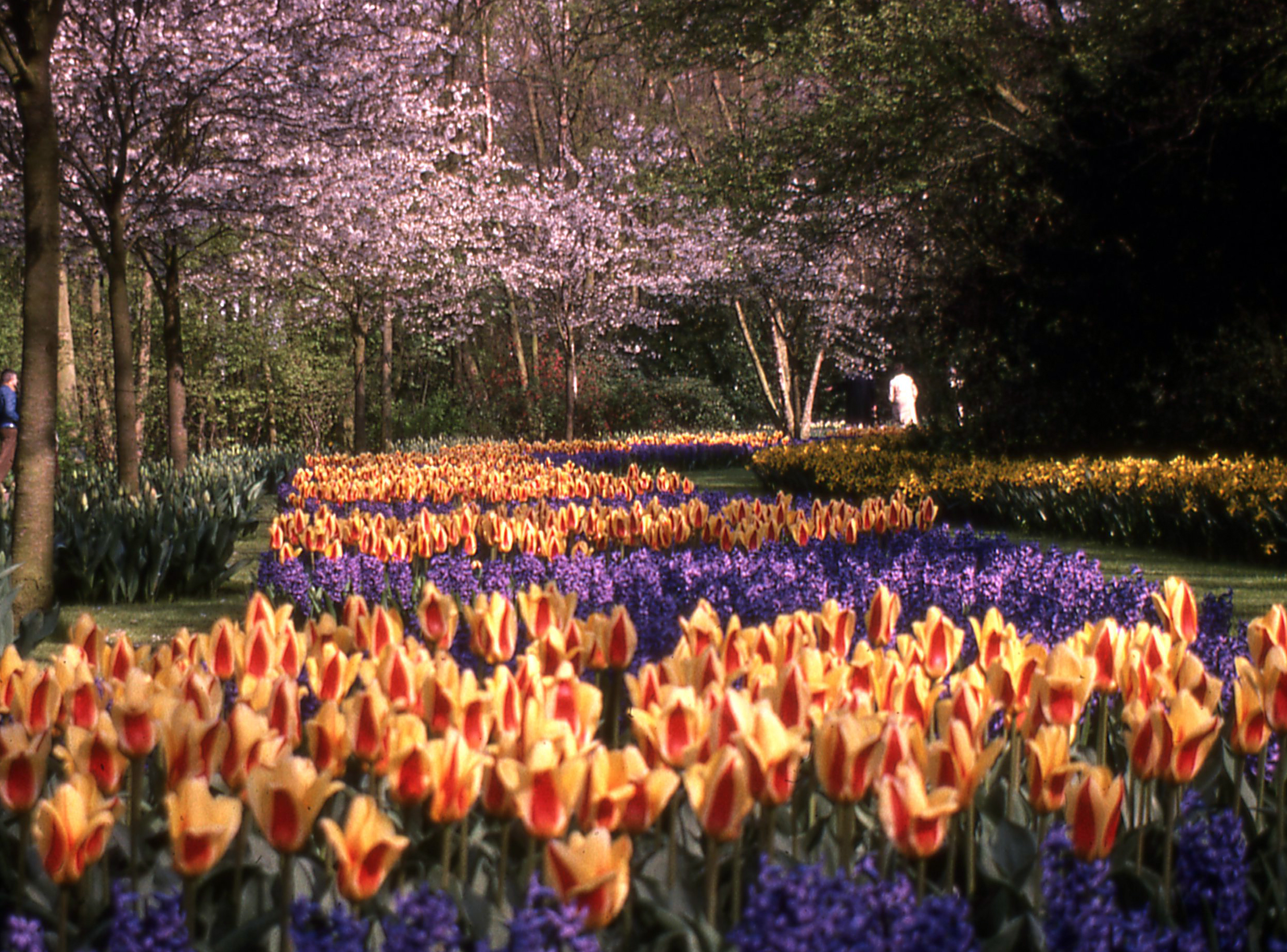 One of the children's favorite visits is to our friends Mia and Mace. Mace is on the faculty at the Vrije Universiteit and we are especially close with them. The live on a sheep farm in Hoorn, about thirty minutes from Amsterdam. Another picturesque town, Hoorn is on an active harbor dating from the 16th century. The kids like touring the old historic ship or going to the beach when we visit our friends. But the highlight is mucking in the mud with the sheep on their farm. There were lambs when we visited in late April, and when Mia placed one in Rachel's lap, her gleeful giggles even made the lamb smile. Mace said they could collect the sheep wool that was stuck in the fencing. They went home with quite a collection … for what use I am not sure. "Hey, Daddy," Jennie asked, "can you get a second job like Mace?" I guess sheep farming sounds a lot more interesting than being a professor.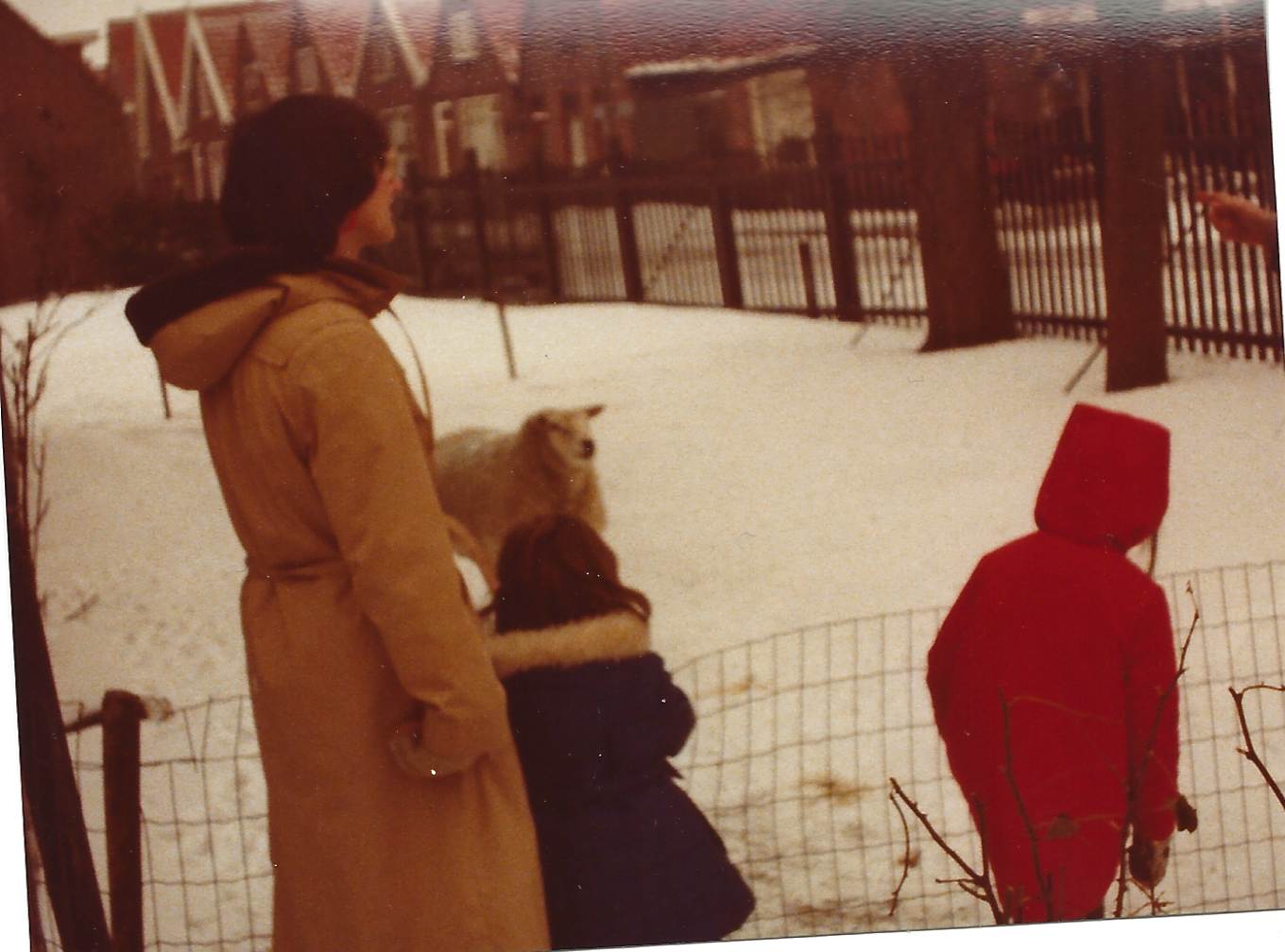 Our days in Amsterdam are unwinding so quickly. We are trying to experience as much as we can. A canal ride through the city, a swim at the indoor community pool. Digging in the sand along the dunes, wondering if it ever gets warm enough to swim in the Zandvoort Zee. Our favorite walk to the library, with its one tall bookcase of English-language books. Jennie and Rachel are in a race against time to read every book on the bottom two children's shelves. It is fun for me, too, perusing the higher shelves where Ivanhoe rests next to The Betsy by Harold Robbins. Many trips to our favorite parks and playgrounds, especially the nearby Vondelpark. A drive through the city at night with all the windows of the high-rise apartment houses twinkling like stars. The Dutch people tend to be private and constrained, but they rarely draw their curtain shades.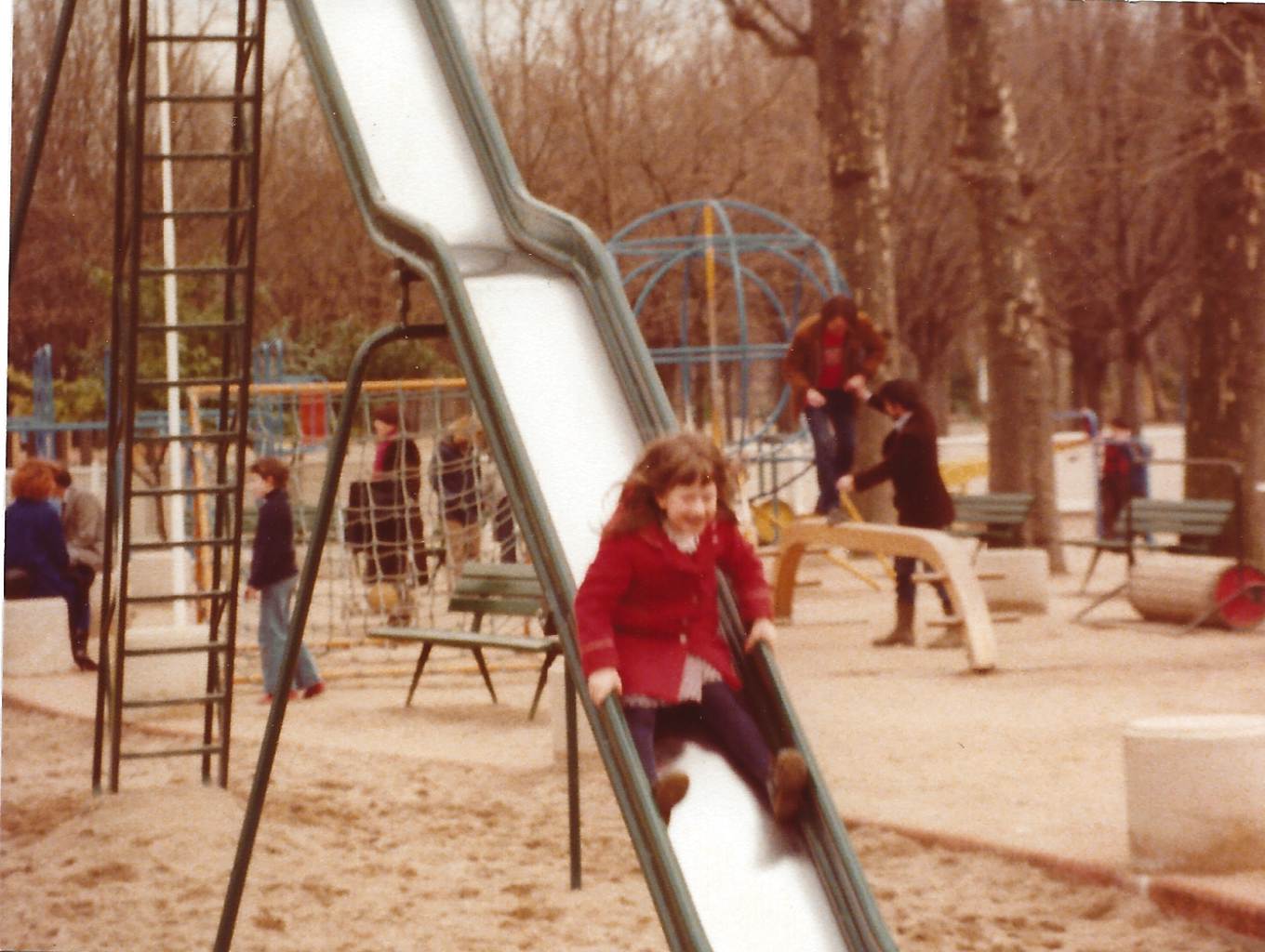 We debate whether or not it is appropriate to take Jennie with us to the Anne Frank House. Our six-year-old is inquisitive and thoughtful and can be trusted to be respectful of others in the tiny attic quarters. So we decide to venture on a field trip, leaving Rachel behind with LuAnn. The house is in front of one of the most beautiful canals in the city, the Prinsengracht. The rooms in the attic annex where Anne, her parents, her sister and four others hid for over two years are exactly as they were. This hiding place is not a film set or reconstructed. Anne is not a made-up character.
"Was she a real person hiding in this secret passage? Mom, are these movie stars' pictures stuck on her wall? Are those really the pictures she put there when she was hiding? It's so tiny and squished back here. Did eight people actually squeeze in here? Did they have to be super quiet? The secret bookcase is cool. Who thought of that? How did they get their food and cook it? Can you read me her diary?" The questions flowed.
"When you are a little older, you can read it for yourself. We have it at home."
It is hard to know what Jennie comprehended at the Anne Frank House. We think we made the right decision and that when she does read the diary she will remember the very real young girl who once lived here.
We reciprocate all the kind dinner invitations. One evening Jolanda and Joop, Han and Else come for dinner and after the meal our talk turns to our guests' experiences with World War II.
"I was only two years old, but I remember the bombs falling around my house," Jolanda relates. "My parents never showed fear. They made a game of eating and playing under the stairs. But I still don't go to Germany unless I have to, and I am anxious whenever I am there. I feel like something terrible will happen."
"I remember hiding behind a panel and eating tulip bulbs," says Joop. "After the war I went from orphanage to orphanage and then foster homes. They took me to a psychiatrist to help me adjust, and that was worse than being hidden."
"I always wonder why the Dutch didn't do more to resist. More than wonder. I am so bitter and angry to this day," notes Else.
We hear these stories or stories like them, over and over. Steve and I are constantly surprised at how the events that occurred over thirty years ago continue to impact our friends -- events that occurred when they were toddlers. Although Amsterdam was not totally destroyed as was nearby Rotterdam, there were serious bombings by both the Germans and the Allies. Nazi occupation meant the loss of a way of life from 1940 until liberation in 1945. The last years of the war were especially grim, with shortages and hunger as well as the increased persecution and death of Jews who had not been lucky enough to escape.
Why so strong a need to tell us their experiences? Is it because we are Americans? Is it because they want us to understand?
One Sunday morning the Tanakas are over for brunch. Another Americanized cross-cultural experience for them. I made a yummy quiche with kwark, cheeses, and eggs. Steve and Shigao also get to talking about World War II. Simultaneously they both realize that their fathers were fighting in the same place at the same time … on different sides. They look at each other with tears and as if on cue get up and hug.
All these friends have sat in our living room on a lovely street in Amsterdam. We have enjoyed a meal together. We have enjoyed their companionship. Our lives are full. Our lives are good. But ... what were we doing in America when we were two, three, four, and five years old? Not eating flower bulbs and not living under stairwells. Not hearing bombs or fighting strangers in some place we can barely find on a map. The incongruity. The gratefulness. The visceral grasp of how blessed we are.
May 10, 1979: We have so many memories. What will stand out as the weeks, months and years go by? What will the children remember? There are moments that I know are not captured in the gobs of pictures we took. Mostly I am struck by the fact that there are different ways to live, often far better than what we are used to.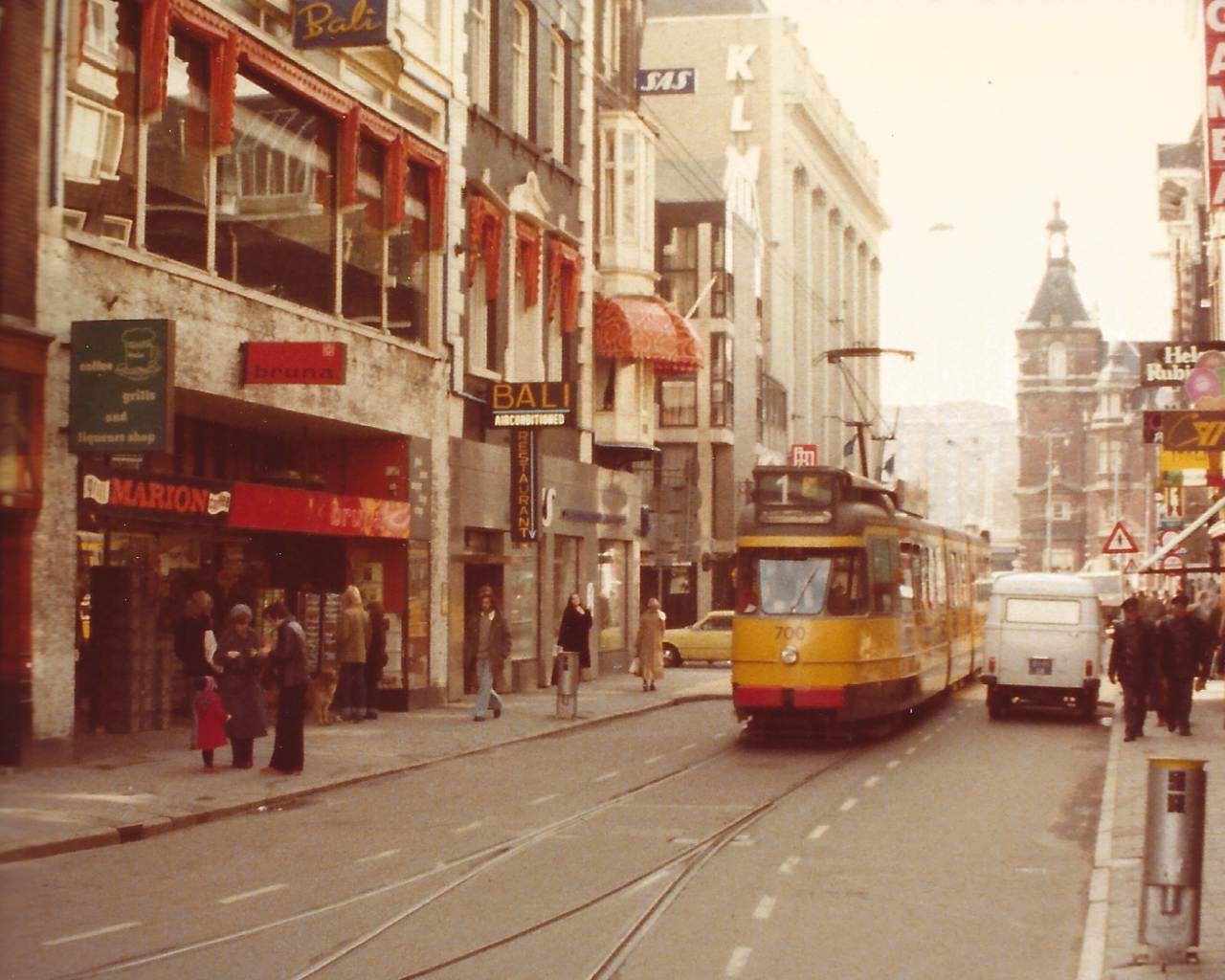 We will be leaving on May 15. We are trying to ship some things home since we seem to have accumulated more than we arrived with. What we can afford to send isn't much, and we must keep our winter coats and sweaters as it is still cold here. It feels like Syracuse, with snow and hail in May. We will need to do some super-stuffing of suitcases and shed a lot of belongings. The girls are busy designating which friend will get which of their books.
"Mom, do you think Suus will miss me as much as I will miss her?" Jennie asks. Rachel wants to know if Marie will come on the plane with us. "No, sweetie. Marie and her family have left already for their home in Japan." Steve got a long letter from his Department at Syracuse University filled with faculty problems and hassles and new plans for next year. It sent him into a three-day depression.
We take a lot of "lasts." Last trip to Vondelpark. Last trip to Mia and Mace and the sheep farm. Last trip to the Albert Cuyp Market. We had a family dinner out. Our choice was a very first visit to the one McDonalds located near Dam Square, the main square in Amsterdam in front of the Central train station. I have to admit those Big Macs tasted familiarly great. The French fries were delicious. The prices were three times what they would have been in Syracuse. I think I have come to realize that America's contribution to the world comes down to three items: Big Macs, jeans and rock n' roll.
We throw a big bash at the apartment our last days. We invite our Dutch friends, our Beethovenstraat friends, and friends the kids have made at school. Every room is filled with big people and little people. Folks are careful not to trip over our suitcases. Coats have to be tossed in the small hallway outside our door. Party favors are all the books we can't take home. The English-language children's books, some sent by our parents, are hard to come by and are snatched up quickly. I splurged on herring from the Albert Cuyp for appetizers. What hilarity as everyone eats the herring the "Dutch way"… tilt your head back, hold a piece of herring high and slowly lower your hand to plop the small fish into your mouth. Neighbors have donated dishes and cutlery for our feast. I made Dutch-adapted American Italian lasagnas. It's basically the same as I would do in Syracuse but with the soft and creamy kwark subbing for ricotta and a smidgeon of ground beef and sausage in one of them. A huge salad filled with fresh Belgian endive (very common and very inexpensive in the Netherlands) accompanies the meal. And lots of coffee! We must have made a hundred pots in our 8-cup Melita pot. Everyone brings desserts and the chocolate is abundant. So is the Heineken. What a symphony of English, Dutch, Italian, Spanish languages. So much laughter and silliness, with the last guest leaving at 1:00 AM.
The goodbyes are bittersweet. There are promises that we write each other. See each other again. Keep in touch. I think we all know that isn't going to happen beyond a few letters or postcards. We know our lives will swallow us back up. Our Dutch friends, oddly enough, can't conceive of travel to the United States. They claim they would love to see Washington DC, New York City and Niagara Falls, but they admit that the desire to travel is really not there or not strong enough to overcome any fears they may have. They think we are as brave as pioneers to venture so far from home, so far from our families and with two little girls.
We spend our last evening with Joyce and her family. It's a quieter occasion. Even when she comes back to Long Island for her rare visits, her time will be captured by chores she can only accomplish in America and most of all with family and old friends. She has already built a wall between us, and we are uncomfortable with each other. She is stiff when I embrace her.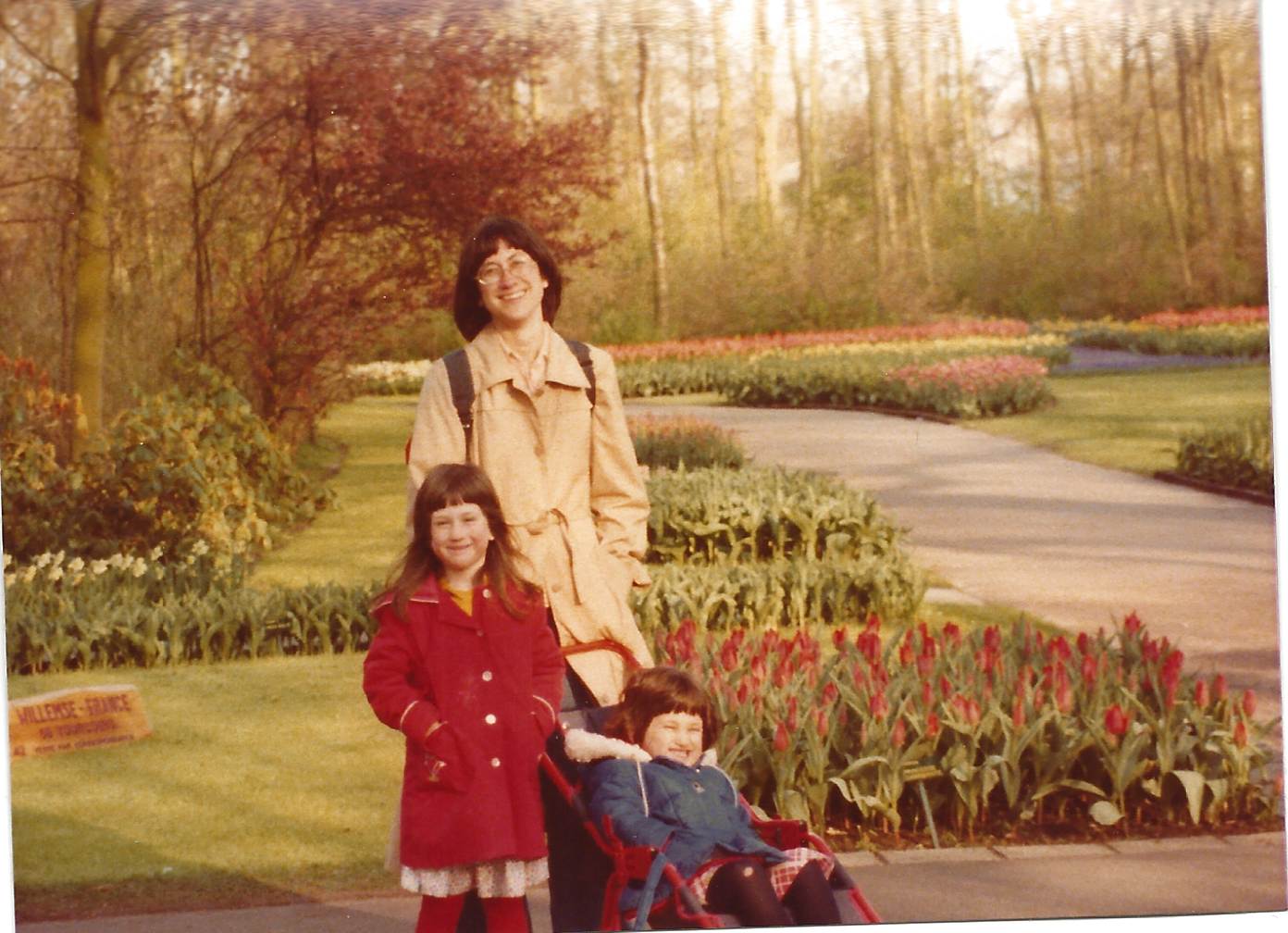 We stay at an Airport Hotel that night. The next morning we walk through the tunnel from the Hotel to Schiphol Airport and our National Airlines flight, with our luggage and parcels. American English suddenly surrounds us. Strangely, a couple from a suburb outside of Syracuse is also in the waiting area. We are going home.
Letters From Amsterdam is dedicated to Steve who during his too-short life always led us to see different worlds, and to Jennie and Rachel who now have families of their own and are creating their own adventures.
© 2021 by Dianne Apter. All rights reserved.
Dianne Apter has lived in Syracuse, New York for over 50 years with time out for extended stays throughout Europe as part of academic life. Dianne has previously published in academic journals and in the online journal Dreamers