Letters from Amsterdam: Third Letter, March 24, 1979
April 2022
By Dianne Apter
Author's note: Letters From Amsterdam is a recounting of an idyllic time our family spent in 1979 in The Netherlands, in Amsterdam. Although I have taken a few liberties with names and timelines, the stories I tell are all true based on the letters I wrote home to my parents and in-laws. Our kids were 6 and 3 years old and the piece tells of their school experiences and our lives through their eyes as well as my own. Our day-to-day life related in these stories has come to mean much more than the trip diary I kept filled with appointments, sites we visited, and descriptions. Those entries one can find in any tour guide book.
March 24, 1979: Amsterdam is such a sensible city. Good transportation, beautiful parks and woods, great food, fine medical care. At first, though, it was hard to plan for shops closing at 4 pm on Saturday and not reopening until 1 pm on Monday.
Although Beethovenstraat is considered "ritzy," the apartments all look the same from the outside, so you can't distinguish the haves from the have-nots. A lot of foreigners are housed here, although of course well-to-do Dutch families share the neighborhood as well. That explains why the shops are so expensive. The large Dutch chain, Albert Heijn, operates a small grocery store around the corner. We have learned to look further afield and discovered an actual supermarket a short drive away, where toilet paper and small rolls of paper towels as well as ground beef and chicken are sold at more reasonable prices than in our neighborhood. Wherever I buy chicken, the pinfeathers are included and considered the way to know you are getting a fresh product. It takes a lot of effort to pull out these tiny additions that we usually don't see in supermarket chicken back home. Fingers, then tweezers and finally pliers tug and pull. I am never completely successful in preventing cooked tiny feathers with our chicken wings.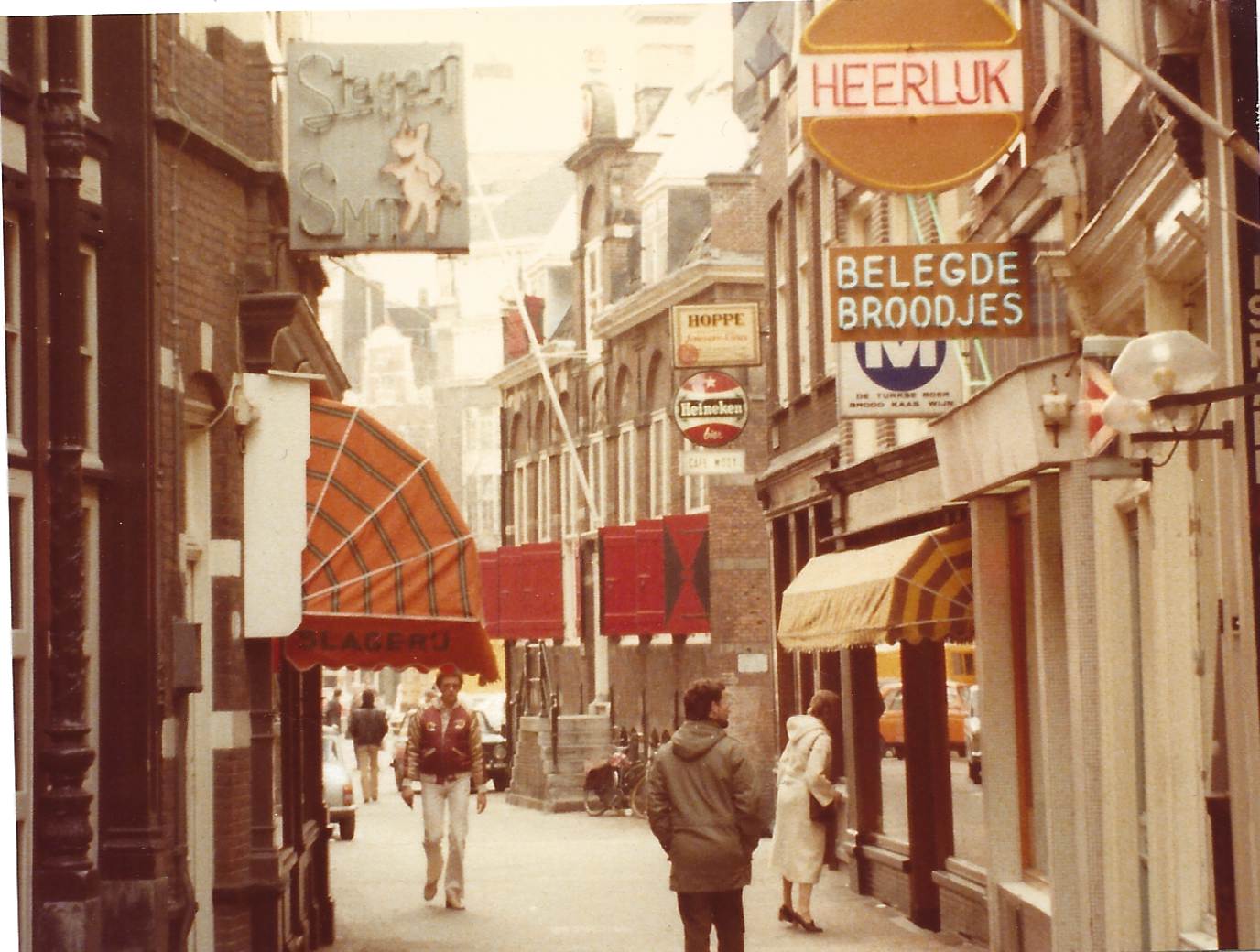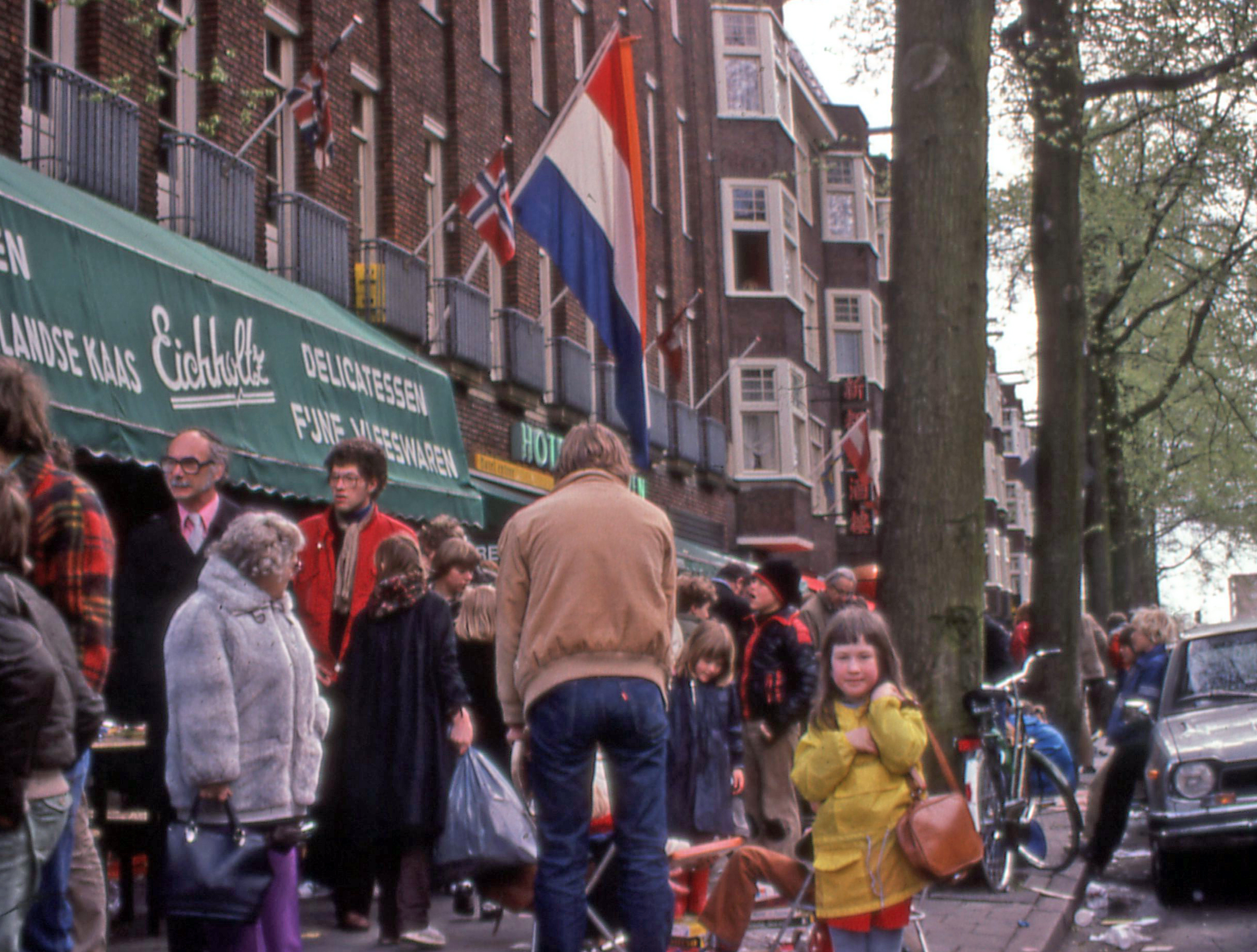 I enjoy the specialty shops when we need a splurge. I can make myself understood with my minimal Dutch, but usually have to back down when the shopkeeper asks a question. The bakeries in our neighborhood are worth every penny (or guilder) for the delights to be had. Weekly treats include appeltareten (an apple tart with raisins and almond paste) or stroopwafels, (two thin waffle layers with a caramel syrup filling), or anything made with scrumptious Dutch chocolate. We also love to eat the poffertjes from the stand near our street. These are mini pancakes made from buckwheat and cooked in a special pan. The poffertjes stands are all over. I like mine with powdered sugar and butter, but the kids have adopted the Dutch way … poffertjes topped with Nutella. Nutella is a staple for Dutch breakfasts, although I try to limit this hazelnut-chocolatey spread.
Since Steve teaches at Vrije Universiteit, we enjoy many of the same benefits that Dutch citizens do. Our assigned family doctor has his home and office around the corner. I visited him once when I had a sore throat. He makes house calls if needed and basically serves the neighborhood. I walked over to his house, waited barely ten minutes in a comfortable room, and then saw the doctor, an elderly gentleman with wire-rimmed glasses and a shock of white hair. I was diagnosed with nothing serious and sent home with a small paper bag of lozenges. Another benefit we receive is no tuition costs for the children's schools. Like every Dutch family, we can choose which school our kids attend. There is no private/public distinction in schooling.
Steve's teaching gives us opportunities to have Dutch friends. His colleagues are mostly around our age or younger, some with young children. They live in villages all over the area and have been so generous in having us visit. We are lucky to have a peek into "real" Dutch life, not just the rose-colored one of a tourist or even an expat. Women's liberation hasn't quite hit Holland yet, which is frustrating the women (mostly the wives) we meet. The short school hours, the need to continuously grocery-shop, and the general attitudes of needing to fulfill their ordained role as wife and mother are a source of unrest. The women want to know all the details of my life in America: how I manage to work, what other women think of me, and what other men think of a woman at their workplace.
Weekly Sunday visits to Dutch friends unfold as an identical ritual in every home where we are guests. We now know to prepare for the timing and bring comfortable footwear. We arrive around 2 in the afternoon and stay until 8 that evening. The kids have been great on these lengthy visits. They get lots of attention, explore, and play with the toys we bring or with our hosts' children. One host had a TV. We haven't seen a television since we have been here, and strangely for all of us, we do not miss it at all. Well, maybe Johnny Carson and maybe Sesame Street. The kids were thrilled to learn that Sesame Street was showing during one of our visits. But Dutch-speaking Grover, with a weird English dubbed voice … definitely not Grover's … disappointed, and they both lost interest quickly.
The visit protocol proceeds in its predictable manner. First, when all are seated, nuts are served, with a spoon to serve yourself in individual little dishes. The kids (and us as well) learn quickly that you don't just dig into the nut bowl with your hands. Then we have coffee and apple cake. Next up is a walk, into the town or along the nearest canal. We return for dinner, served with sherry or genevois, beer or all three. Dinner is usually two kinds of potatoes, a vegetable entree and bread and cheese. Sometimes a dish of potatoes, carrots, and onion mashed together is served. Sometimes we have a pea soup (another Dutch staple) that is so thick a wooden spoon can stand upright in the middle of the pot. Very occasionally we are served meat, and that is usually a type of pot roast. The meat is definitely not piled on our plates, and seconds are not part of the routine. Appelmoes (applesauce) is always on the table, and for kids it is sometimes mashed into the vegetable or potato dish. (A good way to get children to eat their veggies.) After dinner, another walk and then a dessert. There is warmth and laughter and conversation, but once you get past party chatter it's a strain. And don't even try to tell a joke. The delay caused by in-your-head translation screws up the timing, never mind the language that won't decode. We usually leave with headaches, and I am sure our hosts have them, too.
Our expat friends, the other displaced neighbors, are dear, especially for me. Beethovenstraat women had a work life, even high-paced careers in their homelands and are now huisvrouws: stay-at-home moms in a foreign land. We are here because of our husbands, doctors or professors or scientists or engineers temporarily placed in Amsterdam by choice or condition of employment. We come from all over the world. We women need each other, support each other and create experiences to stimulate our minds.
Mary from Boston has been here the longest. She reached out almost immediately and offered helpful advice and connections to the other neighbors. Mary convinced me to hop on the back of her bike for a trip to the nearby Albert Cuyp Market. Albert Cuyp was a Dutch landscape painter in the 1600s, and this market named for him has been around in some form since then. It became a regulated open market in 1905, with vendors in stalls selling whatever their customers have needed through the centuries. Fish, poultry, cheese, vegetables, fruit, clothing, and shoes along with kitchenware and hardware can be found in the blocks-long outdoor market, and the prices are among the cheapest in Amsterdam. I clutch at Mary's waist on the bicycle, balancing our bags, as she whizzes like a pro around pedestrians, trams, cars, buses and other cyclists. I will never learn to ride a bike like Mary, but our trips to Albert Cuyp are a regular destination for the practical items of life.
Olga is from the Philippines, and she organizes a Chinese cooking class for about six of us. Filipino cuisine, according to Olga, has a strong Chinese influence, and she loves to cook that way. We use my kitchen. As tiny as it is, it is apparently the largest among us. So every week, six women far from their homes in Australia, Japan, the Philippines, England, and the U.S. gather to learn Chinese cooking from Olga. The spices are exotic to me (but readily available in the Netherlands), and the technique makes sense with the abundance of vegetables and the spare use of meats. The laughter is what holds it all together as we assemble ingredients at the dining room table and file in by two's to the kitchen to watch Olga's magic with chopsticks.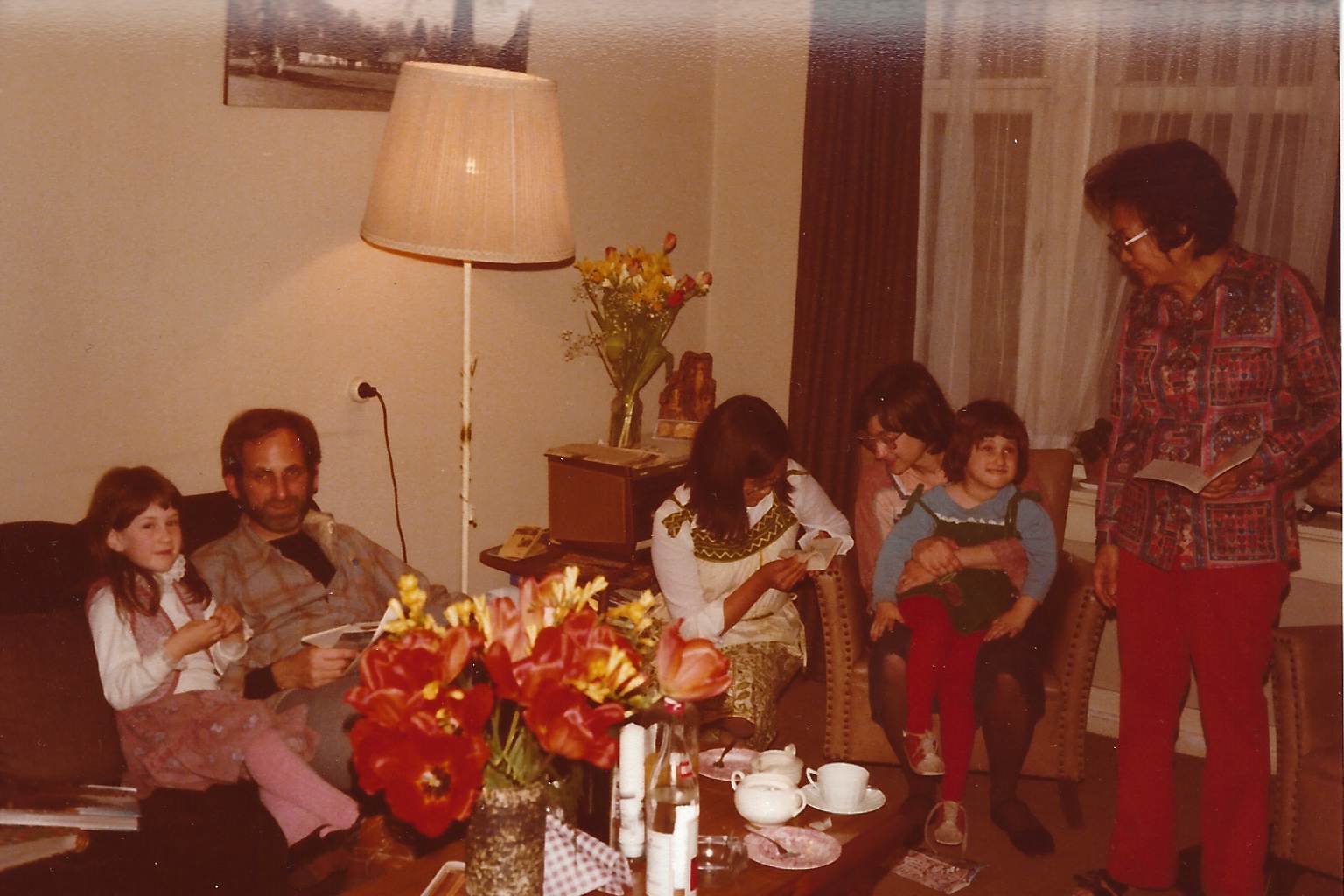 Joyce is an American from Long Island married to Voucher, a Dutchman. She is now a Dutch citizen. Her little girl, Iris, is Rachel's age and is learning both Dutch and English in equal parts. Joyce and I go to modern dance class together. The teacher gives direction in Dutch, so I quickly learn my linke (left) from my recht (right). After class a bunch of us usually go for drinks somewhere and I stagger home feeling stretched and tipsy. Joyce confesses that she rarely lets herself become close to an American. She tells me, "She will leave, but I am here to stay. I see my parents and sister maybe once a year. Long-distance phone calls to the States are very, very expensive to be used sparingly. That makes me unbearably sad, so best to avoid it." I wonder how it would feel, knowing that my family and life in America were pretty much gone. I wonder how my own grandparents managed it as they too left their homelands, knowing they would never return.
And then there is the Tanaka family: Naomi, her husband Shigao, her son Shintaro (Jennie's age) and little Marie. We spend a lot of time together. The men (her husband is a heart surgeon) like each other, all four kids get along beautifully, and Naomi and I cross cultural and language barriers to develop a deep friendship. Her apartment has the traditional tatami mats for sleeping, and she has a bathtub! Her kids think the grilled cheese sandwiches they get for lunch at my house are the most amazing things they have ever tasted. My kids think the delicate, artistically arranged plates of greens, vegetables and rice are almost too gorgeous to eat … but they do! We share our resources. I tell her how we used duct tape to close up the holes where the mice were getting in. She lets my kids use their tub. Together we visit the washing machine in the basement of our building. Unfortunately neither of us can decipher what the uitkoken setting means. I need to wash sheets and towels so I am game to try that setting. Oooops. Everything turns a lovely shade of pink. I learn too late that uitkoken means "boil" and is beyond hot … rarely used unless you need to sterilize … and that rose dish towel included in my wash load graced everything else with its color. I warn Naomi.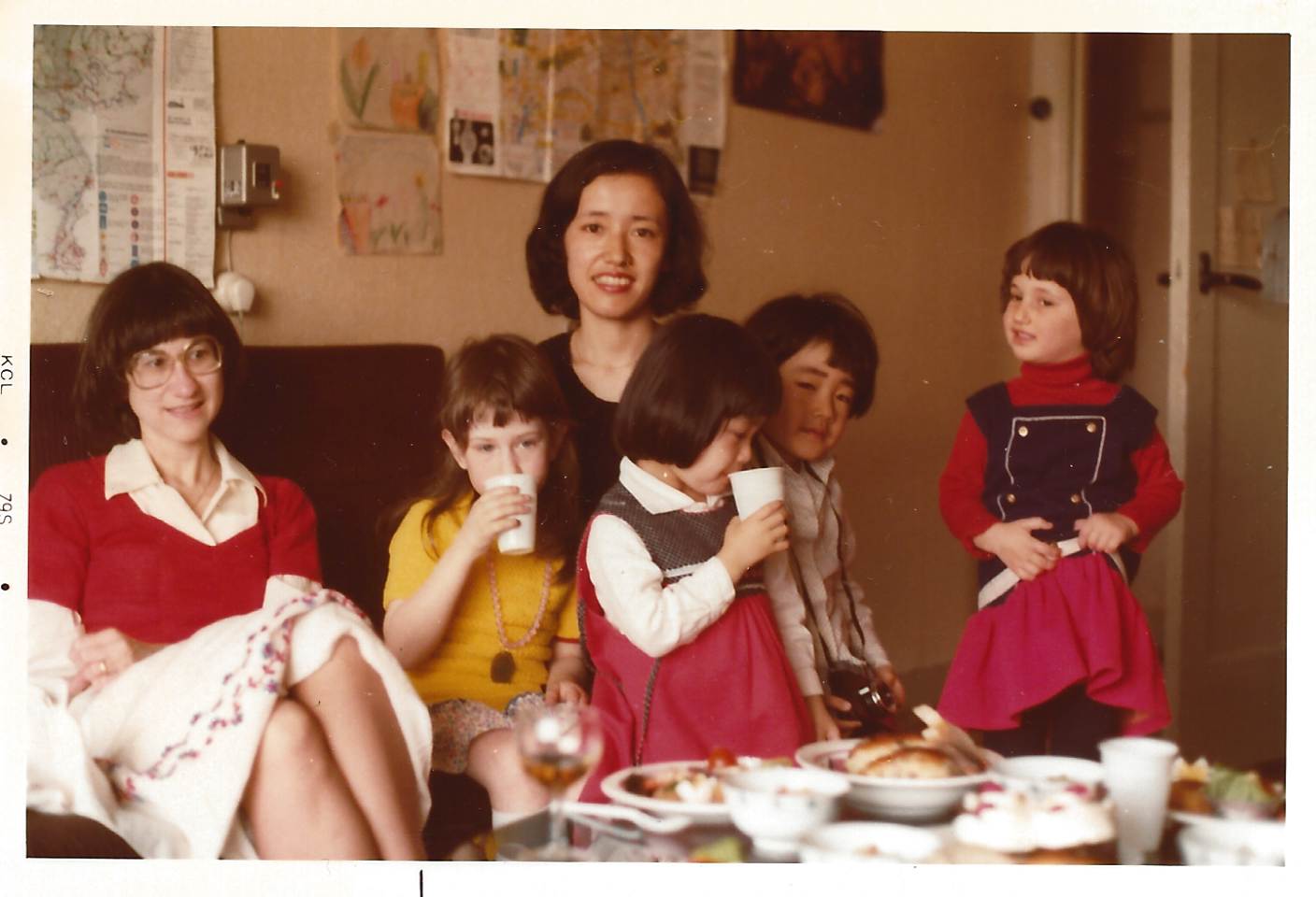 Naomi reads English perfectly. She understands and speaks it well enough to get along in Amsterdam, where just about everyone speaks English. But she tells me she wants to learn "American" English so I agree to be her teacher. I know nothing about English language learners, so I decide we will learn by doing. We go on "field trips" around the city while our kids are at school. We ride the trams, being very careful to hold on to our tickets to exit. Naomi has never been in a café here, so that is one of our first stops. Cafés are leisurely affairs in Amsterdam. People sit and eat, read and even play cards or checkers. When kids are around they wander and play, free of adult interference. One afternoon we decide to try Rijsttafel which is a Dutch word translating to "rice table." It is Indonesian cuisine with a parade of small plates filled with spicy-sweet, sticky or chewy dishes accompanied by rice. The waiter just keeps coming. What fun to explore all those tastes and decide what merits thumbs up or down (mostly ups).
So Naomi and I just talk. We talk about my life in Syracuse and hers in Tokyo; we talk about our kids and our dreams for their future; we talk about whatever women all over the world talk about. Her vocabulary increases. One day she asks me about a phrase she hears often as Americans greet each other and she can't figure out what it means or how to translate. "Hihowarya," she repeats. "Hihowarya -- what does that mean?" It takes me a while, but I finally figure out she means, "Hi, How are you?" which leads to a discussion about the slurred, fast mashing of words that we Americans are guilty of. I also caution her that no one really wants to know how she is. You are supposed to answer "fine" and leave it at that. Naomi learns the subtleties of American-speak, and our ability to talk to each other grows right along with her achievement. Now if only I was as fluent in Japanese!
To be continued …
Letters From Amsterdam is dedicated to Steve who during his too-short life always led us to see different worlds, and to Jennie and Rachel who now have families of their own and are creating their own adventures.
© 2021 by Dianne Apter. All rights reserved.
Dianne Apter has lived in Syracuse, New York for over 50 years with time out for extended stays
throughout Europe as part of academic life. Dianne has previously published in academic journals and in
the online journal Dreamers.