The French Bistro Social Experiment
April 2021
By April Remfrey
I was so busy in high school with sports, drama and music that I never gave much thought to anything happening outside of my small town in Iowa. That all changed the first day of university when I met my future husband. He was a very tall, dark, and handsome 17-year old who promised to be my study buddy for our freshman religion class. He was a double Russian and IT major with a French minor. This beautiful French language would spill out of his mouth at record speed every time he encountered a French classmate on campus. As we started to date, I would ask him to whisper French into my ear. "What should I say?" he would ask, but it didn't matter, it all sounded the same to me: beautiful. I was in complete awe at his ease with the language, and honestly, how anyone could understand what he was saying, was beyond me.

Four years later we found ourselves in a little Parisian honeymoon hotel on rue Cler, a bustling pedestrian street close to the Eiffel Tower. It was filled with fruit, vegetable, meat, and fish stands that spilled out onto the cobblestoned street at an ungodly hour. It smelled divine and it still holds a special place in my heart. Directly across from our third-floor hotel room was a Chinese take away store that had an orange juice making contraption. Oranges are dumped in a hopper at the top of the machine, they are cut in half, and pressed into a delicious, thick juice that drips from a spout at the bottom. Bringing myself back from the heavenly scent of soy and orange, I knew I had to have a glass of that juice. However, my newly minted husband decided that it would be best for me to learn how to order a glass of juice myself. So, I started practicing how to say, "I would like a glass of orange juice please". I know it sounds like quite an easy statement in your native language, but I found it quite tricky in French. My French knowledge up to that point consisted of words of which my grandmother would not have approved. After a full thirty minutes of rehearsal, I was able to ask, "Je voudrais un verre de jus d'orange, s'il vous plaît." The Chinese store owner was extremely patient with me and I learned something that has stuck with me ever since. Those that are speaking their second, third, or fourth languages are much more likely to be kind as you sputter and turn ten shades of pink. As I walked out of that store, triumphantly holding one of the best glasses of orange juice I've ever tasted, I could nearly taste the foreshadowing.
Fast forward two years. My husband worked for one of the world's top 5 companies and he had a dream of working in France. Armed with a French language business certification, his dream came to fruition much sooner than we expected and he was offered a job in a suburb of Paris at the age of 24. It happened so quickly, that I didn't really have time to think about how to prepare for a move across the world. I certainly didn't prepare for speaking a new language on a daily basis. My only French lesson had been two years earlier on rue Cler with the fabulous Chinese orange juice.

Just around the corner from our short-term hotel was a cute little bistrot that I had my sights set on for lunch. There was a placard on the sidewalk announcing their lunch specials in scrawling script. Armed with a few new vocabulary words, I was sure I would be able to order my meal. Of course, I had everything planned out in my head but forgot to factor in that there was going to be another person involved in the conversation. Thankfully, I had planned to break the ice by explaining that I was new to Paris and that I was actually much smarter than I sounded. It had to have been clear from the stammering and stuttering of my French that I was new to Paris, but I wanted it to be obvious that I was making an effort and lighten the mood.

The smells wafting out of the kitchen were something I never experienced in small-town Iowa. I'd experienced the gorgeous smells of my mother's kitchen, but not the plated works of art that were being carried past my table. For the first 24 years of my life, plating food had been about quantity, not beauty. After observing and smelling multiple lunch specials, I'd decided on a meal of soupe à l'oignon followed by a leg of duck confit. The heaven of having a multi-course meal that is long and drawn out is something that has shaped my existence ever since.
However, what was even more interesting than the food was watching and listening to the behavior of the waiters. There were clearly regulars that received wonderful attention and care while there was another class of customers that were just there to eat and run. I wanted to become a regular, but knew it was not going to be easy considering I didn't speak more than two sentences of French!

And so my experimenting began. No matter where we moved before our apartment was ready, I continued to patronize the restaurant near the Montparnasse train station. Its baby blue painted wainscoting and sparkling chandeliers seemed familiar after three weeks. What also became familiar, was me. I kept learning more and more sentences that I could utilize when ordering my meal and started to add little bits of information about myself when possible. The waiters went from dismissive to welcoming in a short period of time. After the first week, they would seat me further away from the front door or closer to a bouquet of flowers. After the second week, I was met with a glass of bubbles as a greeting.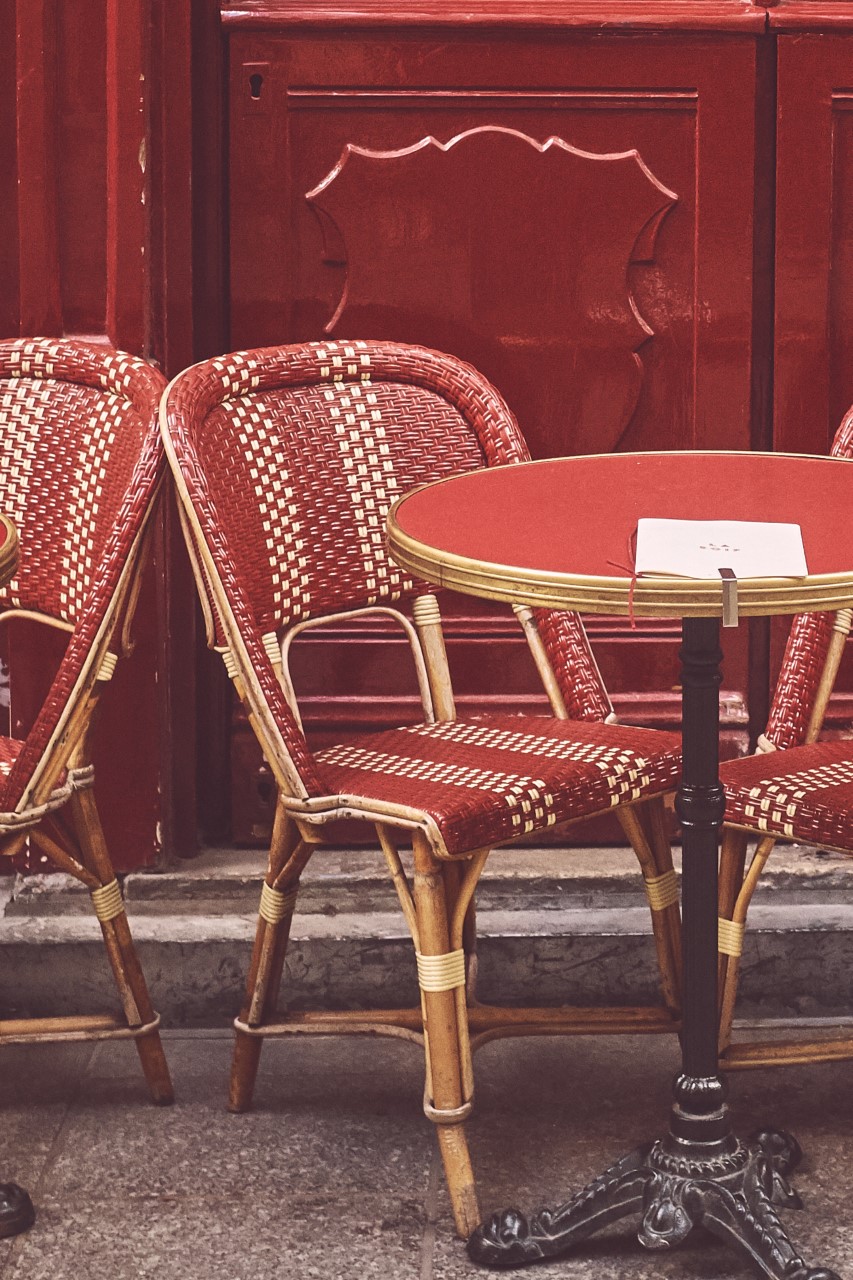 This was just the first of many social experiments I have enjoyed while living outside of my home country! These Parisian experiments led to relationships with the local cheesemonger, Morrocan dried fruit salesman, and corner butcher. The cheesemonger became such a part of my life that I took my visiting parents to meet her and we left with enough free cheese to feed an army!

Twenty years later, I have now lived in France's neighbor to the south-east since 2013. Switzerland has continued to spark my interest in social experiments, but my insatiable need to find the differences between my home country and passport country has waned. Replacing these feelings of comparison is a warm fuzzy feeling of contentment. I've grown to love finding the similarities. The way the farmers of my home state of Iowa feel pride in their tended land is no different than the farmers here in Switzerland. Gleefully greeting one another when the clouds part and everyone heads to the trails is the same in both lands. But what I revel in most when thinking about my birth land and my adopted home is the innate kindness in people. Having lived in the same city of twenty thousand since 2013, I've become a part of the fabric of the community. I've joined clubs to create music with my neighbors and I warm at the sight of familiar faces when walking through the old town. No matter how unintelligible my German, the listeners want to hear me, want to help me, want to make me feel welcomed. Because that's what happens when you keep at it in your adopted home. Create social experiments that help you identify the differences in your new location, but be ready for them to eventually lead you to the similarities.
© 2021 by April Remfrey. All rights reserved.
April Remfrey, MS, is an educational consultant that focuses her time working with globally mobile families that have children with special needs when they are searching for a new school (www.remfreyeducationalconsulting.com). She has been a teacher for 20 years in three different countries and has experience in the public, private, and international school environments.
Since 2013, April, her husband, and daughter have lived in the Zurich, Switzerland area. Never one to sit still, April likes to hike in the stunning Swiss Alps, cook gourmet food, and play clarinet in the local concert band.