Doin' You Wash
March 2021
By Mike Neis
"But—won't you be lonely?"
Ms. Crosby gazed at me through glasses which magnified the concern in her eyes.
"No, no. I'll be all right."
"But you livin' in dis big house all by youself!"
I strained to understand the Grenadian dialect and refrained from laughing at the notion that my house was "big." The sitting room came furnished with a couch, a coffee table and two armchairs. The kitchen had a chest-high fridge, a kerosene stove with a broken-off knob, and a table with seating for two. The bedroom I slept in had space for a desk, but the guest room did not. A wooden sign above the front door with the words, "Faith Cottage" gave a name to my new living space. The outside walls were painted candy apple red with blue trim.
"I'll be okay. Don't worry about me."
She pushed up her hat and rubbed her fingers across a moist forehead as if she had a headache.
"All right, den," she said. "You be careful, Mistah Bryant."
Ms. Crosby was the secretary at the school where I would be teaching. She had helped me find my house, and I was grateful for her help.
"Yes, of course. I'll be careful."
As I met more people in the village of Marigot, the same questions kept coming up.
"You livin' heah all by youself?"
"Won't you be lonely, Mistah Bryant?"
"You livin' in dis big house all by youself?"
Eating was an initial concern of mine, and Mr. Paryag, my neighbor, taught me how to take the local provisions and turn them into sustaining meals. After a few weeks, I had acquired a skill for gutting fish, along with an aggressive approach with curry.
I had plenty of other things to learn, like how to wash my clothes by hand. My house had a large outside sink designed for that purpose. After I ran out of clean clothes, I decided I had better give washing a try. I carried a bar of soap, a large brush, and a vast armload of laundry to the side yard. The sink was cube-shaped, deep, and had a ridged platform on the side for scrubbing. I had no clue what I was doing as I splashed water over a pair of navy-blue slacks. It felt as awkward as flossing my teeth, which I do not like to do.
Five minutes into the task, a boy saw me. He was a student at my school, and he was rolling a knee-high hoop, like pictures I had seen of children in 19th century England. I forgot my laundry and watched him guide the hoop at his side with stick. I remembered his name was Rongee.
"Doin' you wash, Mistah Bryant?" he said as he steered his hoop in small circles in the middle of the road.
"Yes, I'm doing my wash."
"All right, Mistah Bryant."
"All right, Rongee."
The boy gave his hoop a smack and chased after it down the road.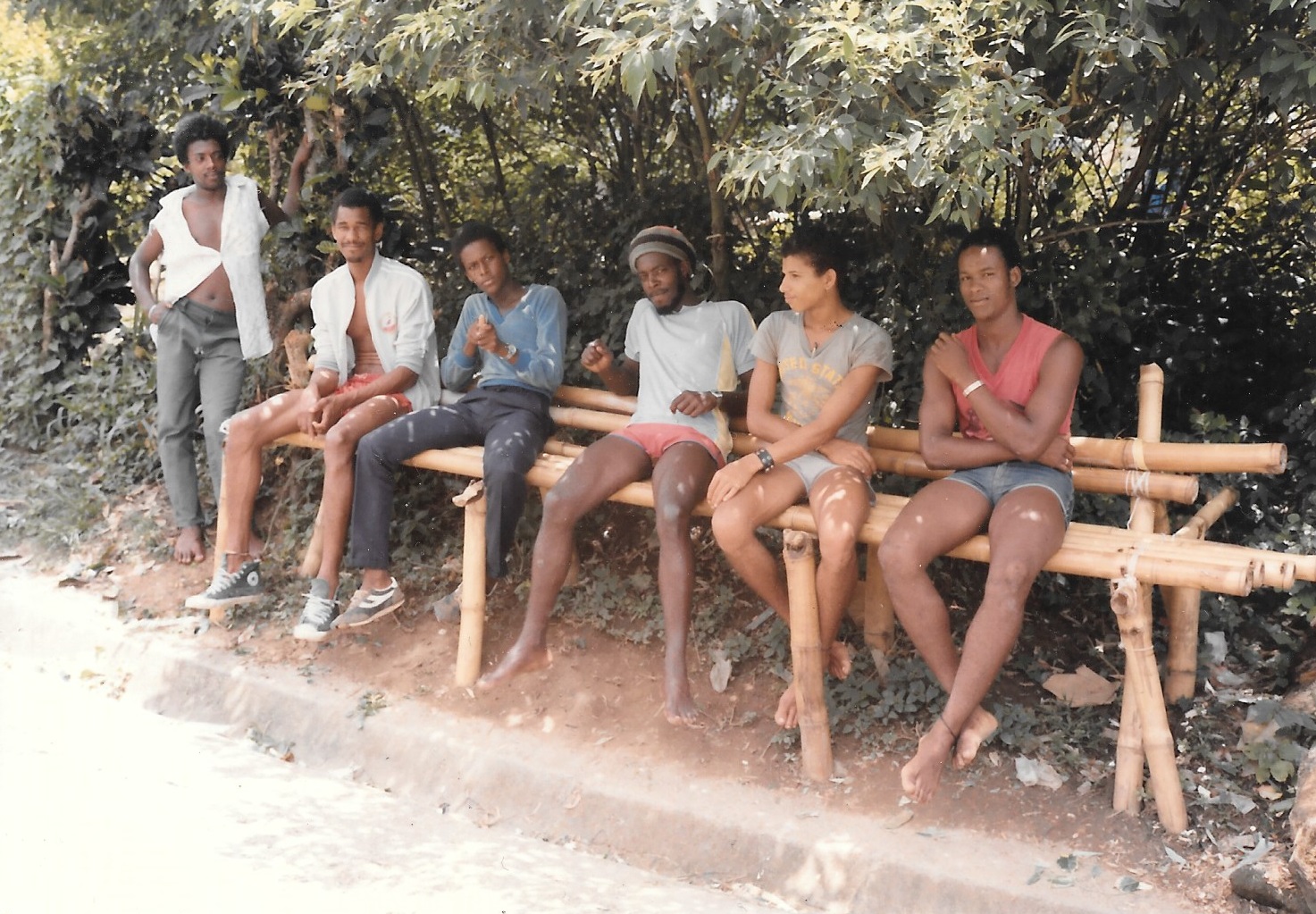 Not long afterwards a woman passed by. She was wearing a threadbare Dallas Cowboys T-shirt and a pecan-brown skirt that reached down to her knees. She had a large white bucket of wet clothes on top of her head as she walked with practiced assurance. The clothes she was wearing were damp, so she had certainly been with the women by the river. She was wearing no bra. I did not know her name, but she knew mine.
"Doin' you wash Mistah Bryant?"
"Yes, I'm doing my wash."
"Have a good day, Mistah Bryant."
"Thanks. You too."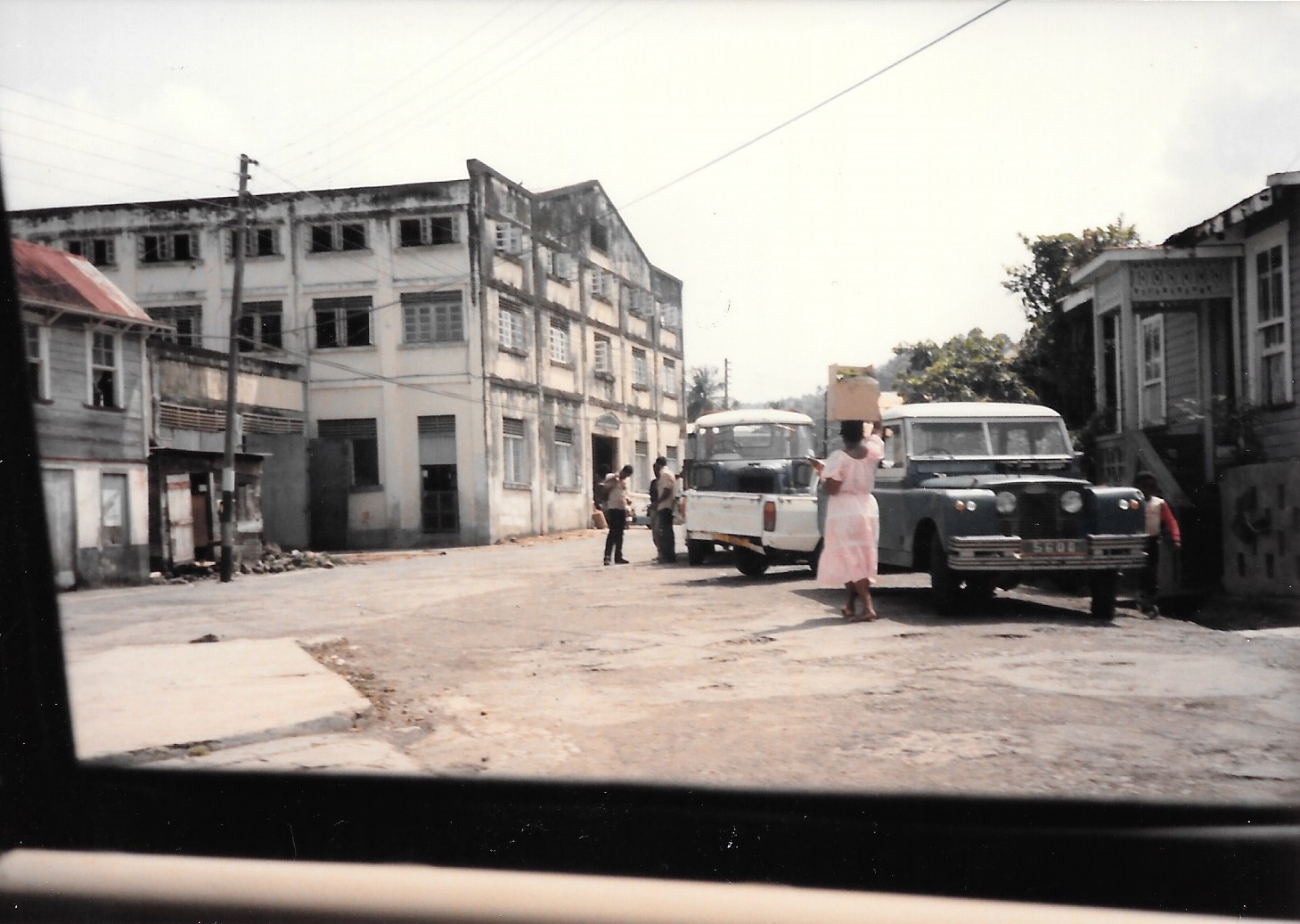 A man carrying a bucket of fish soon followed, wearing nothing but pair of street-colored cutoffs which hung low on his hips. A sprinkling of gray and black hair clung to his chest, and fisherman muscles rippled as he swung his free arm about. I marveled at how his bare feet could handle the hot, rough pavement. He wandered from one side of the road to the other, an indication of a visit to the rum shop before going on his way. Like the washerwoman, he knew my name.
"Mornin', Mistah Bryant."
"Good morning."
"Doin' you wash, Mistah Bryant?"
I closed my eyes, wiped my forehead, and exhaled. "Yes. I am doing my wash."
"You have a good day, Mistah Bryant."
"Thanks. You too."
***
After three years I finished my work in Grenada and flew back to National Airport in Washington D.C. My old friend, Kevin was there to pick me up. He took me right away to the National Mall, perhaps thinking this expat should get reacquainted with his American roots. I was glad for the opportunity to stretch out and walk around.
It was probably too much stimulation all at once, however. The crowds in the subway, controlled and indifferent, seemed on the verge of crushing me. The cars and roads were as omnipresent as the sky. That night I lay awake in Kevin's guest room, trying to recover from the day, and unable to believe my overseas adventure was over.
On my second day I helped his dad move to a house outside the city. The new place was in a quiet neighborhood with curbs, sidewalks, and large trees that hung over the road. No one was in the streets.
The house had three bedrooms, a den, a living room with a cathedral ceiling, and a backyard that led directly to a nature trail. We had just finished positioning a couch when Kevin poured himself a glass of water. I took a few steps into the living room and looked around.
"So, this is your Dad's new house."
Kevin took a sip of his water. "Yeah."
"It's awfully big."
"Well, he has some hobbies, like photography and music. He needs room for all that stuff."
"He'll be here all by himself?"
"Uh huh."
I knew what I said next would sound ridiculous. I remembered the warnings of culture shock, both coming and going, and I remembered the way people are in the States. But I did not feel that way anymore.
"But—won't he be lonely?"
© 2021 by Mike Neis. All rights reserved.
Mike Neis taught for three years in Grenada, working for both the Peace Corps and the Grenadian government. He has also lived in Mexico, Venezuela, and many places in the United States. He presently lives in Orange County, CA and works as a technical writer for a commercial laboratory. His fiction has appeared in Amethyst Review, Euphemism and elsewhere. Besides writing, his outside activities include church music, walking for health, and teaching English as a second language.