Pip, the (Pandemic) Hamster
December 2020
By Nicole Schaefer-McDaniel
It seemed like my kids had been asking for a pet for as long as they could talk! But, as an expat family schlepping our belongings around the world every few years, adding the logistics of a pet to the mix had not been an option I was willing to entertain. Well, yes, there is the upside of having a consistent confidante for the children as they settle into a new home and school in yet again another country. However, the nightmare stories told by expats about dealing with expensive last-minute vaccinations and vet visits before jumping on a plane on top of strict quarantine restrictions (even before COVID) made a dog or a cat a less-than-attractive family member option.
So, we did what any parent would do. We stalled the pet conversation every time it came up. Cats were easily ruled out once we realized my husband's allergy (although there was that time we visited a farm in Tuscany with a litter of kittens where my heart softened to a particular cute furball the kids and I lovingly named "Fridolino" - we were in Italy after all!).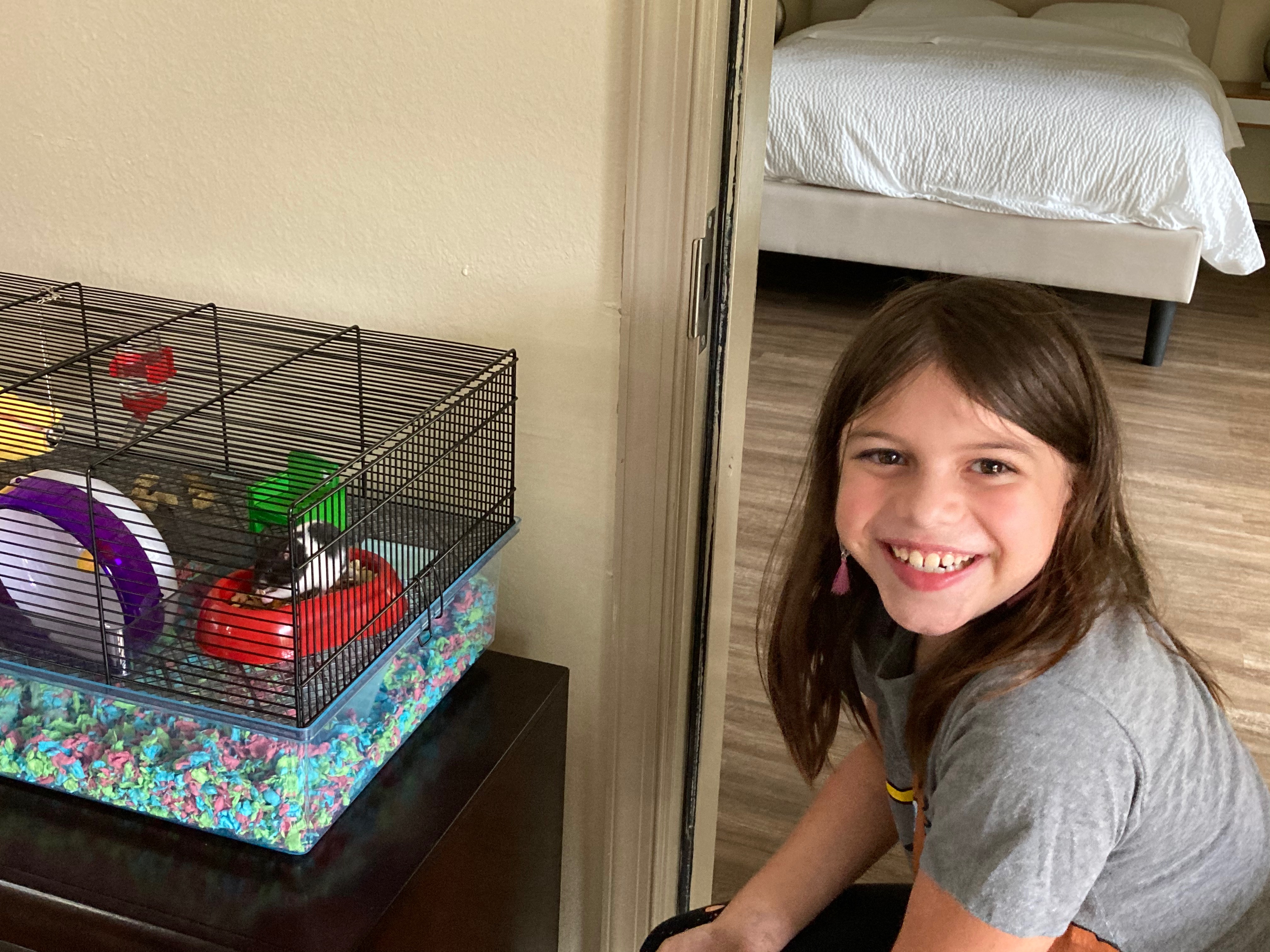 No matter the delay tactics ("It's too expensive to fly a dog around the world." "What would we do with a dog if we had to leave our overseas assignment suddenly and couldn't take it with us?" "We travel too much, who's going to look after our pet?") my kids kept asking when they could please have a pet. Any pet. Please!?
Negotiations ensued. Research took place. We finally agreed to adopt a small furry friend, a hamster, when we would be in a more permanent home. At the time the deal was struck, we were living in Taipei for a brief period of training until we were to move to Wuhan, China for three years--or roughly a hamster's entire lifespan. Perfect. What could possibly go wrong?
It turns out a global pandemic with an epicenter in the very city we were hoping to call home would interfere with our "let's finally adopt a pet" plan. Who would have thought?
A very hectic and chaotic summer ensued, marked by many sleepless nights spent drawing back-up plans about work and life until we finally rerouted and landed back in our home country of America --which by then had become one of the hot spots of the COVID-19 pandemic.
While my husband and I were trying to sort out our next steps of where we would be living and working, our kids, particularly our daughter, had not forgotten about Pip, the Hamster. That's right. He had already been given a name.
She carefully researched the many types of hamsters, cages, water bottles, chew toys, and treats, and dutifully watched countless YouTube videos outlining how to best take care of and "tame" a hamster. No matter where we would be living, Pip was going to be joining the family. Pandemic or not, overseas or at home, working assignments arranged or not, Pip was not going to be left behind - so that much was certain in a rather uncertain time for our family.
Once we settled into our new life (despite the fact that we were still working out many loose ends on the work and living front), we washed our hands, put on our masks, and headed to the nearest pet store where my daughter had been researching the types of hamsters it promised to sell. Surprisingly, it turned out that shopping for a hamster was no easy feat during a pandemic. Pets were suddenly in high demand. And, shockingly, hamsters fell under new rules and now needed to be quarantined following their journey to the store. (Side note: Can hamsters even get COVID?)
This did not stop my daughter from memorizing arrival and quarantine dates for incoming hamsters so we were ready to welcome the specifically chosen "Syrian Fancy Bear" hamster to join our family when the next shipment arrived. Oh, the joy in our children's eyes when we brought Pip home in that small cardboard box the pet store supplied! My daughter immediately bonded with the tiny black and white creature and spent her days sitting in front of her (it's a girl!) cage and talking with her well into the night. They were roommates and best friends at once.
As a responsible pet mom, my daughter reminded me to schedule a check-up with a veterinarian as the pet store clerk had suggested. Despite the fact that neither my husband nor I saw much value in spending exorbitant fees for an "exotic animal" veterinarian (apparently you can't take your hamster to just any regular vet) to tell us that our hamster was cute and furry, we wanted to instill a sense of responsibility and made the appointment. After all, what could possibly be wrong with this tiny creature that had been in our home for just a few days and was cute, playful, and curious?
It turns out a lot. Tears had already swelled up in my daughter's eyes when we sat in the car on speaker phone with the vet who had just examined little Pip (COVID precautions did not allow pet parents in the vet office so we waited in the car after a technician knocked on our window to take Pip inside). "You have a cute hamster but I am very worried. "She has 'wet tail,' a serious bacterial infection and she's severely dehydrated," the vet said in a solemn voice. "Have you noticed a change in her activity patterns?" OK, so maybe we did notice that Pip was not as playful the day before but she was still getting used to her new surroundings, or so we thought.
As my daughter's tears started to roll, I inquired about treatment options and tried to reassure her as best as I could even though I suddenly began to remember reading that if left untreated, this infection often kills hamsters within a day or two. Fortunately, the vet saw hope since it was diagnosed early and asked for permission to administer fluids via IV (yes, to a hamster) and suggested a regimen of four (4!) different types of antibiotics.
"Of course," I said but only after consulting the pet store's return policy since we had clearly bought a sick hamster. It turns out our only option was to sell the sick hamster back to the store and then if (if!) she recovered in their care, we could purchase her back. As the tears flowed more rapidly at the very thought of giving up on her beloved Pip, I asked the vet the only obvious question: "Great, so how do we get the hamster to actually eat the antibiotic pellets and not hide them in her cage?"
Perhaps not shockingly to those with pet experience, we learned that the antibiotics had to be orally administered….
To a hamster.
Twice a day.
The hamster that had bitten us on more than one occasion as we were learning how to hold her just a few days ago would now need to be restrained so that we could inject four tiny syringes into her mouth, mornings and evenings, for the next ten days.
$300 in vet fees later, we drove home with a sick but re-hydrated hamster. My daughter fought back tears speaking softly to Pip to reassure her while I was trying to visualize the vet's instructions how to "scruff" Pip so that I would have a firm grip on her and she would open her little mouth.
At home, we consulted the internet for guidance and enlisted the help of the rest of the family to set up our makeshift hamster treatment facility equipped with a tea towel to pick her up (to give the hamster something to wrap herself in and play with and to protect my hands from sharp teeth), a container (over which we could hold her in case she wrangled her way out so she could land in a confined space), carefully measured syringes with tiny dosages, and of course treats as rewards.
Carefully prepared with a game plan in hand and assigned roles, the unthinkable happened. We did it. I managed to pick Pip up, turn her on her back, and pinch her in the right spot on her back and neck so that she opened her mouth and my daughter could give her the medicines. She even took them eagerly without spitting out! Success!
In no time, we found ourselves in a steady vet make-shift routine of coaxing her out of her cage to feed her medicine. We were so relieved when Pip finally began to perk up and run in her wheel. However, that moment of joy was short-lived when a few days later, her behaviors changed yet again and she began to sleep more and more, leading my husband and me to regularly check on Pip's breathing any time we were close to the cage. We quietly wondered if we could bury a hamster in our apartment's backyard or if, when the time came, we should bring her back to the pet store for a refund (side note: do pet stores refund deceased animals?).
Not ready to give up hope, we headed back to the vet. Another IV, prescriptions for more medicines (five antibiotics this time), special "super" food to make her stronger, a "Hail Mary" injection that according to the technician, cures nine out of 10 hamsters (let's not talk about that one sad hamster), a recommendation to apply hemorrhoid ointment to soothe an itchy tail, and another few hundred dollars later, we were sent back to our make-shift hamster treatment facility. By that time, I was so exhausted from taking care of our uprooted family with a still uncertain future that I did not even begin to question the craziness of searching the aisles of our local pharmacy for hemorrhoid ointment for my daughter's hamster in the midst of a global health crisis.
As our twice daily hamster treatments resumed, we watched Pip become stronger and chubbier each day. And yes, in case you were wondering, the hemorrhoid ointment did really alleviate her scratching. A little more than two months later, Pip is stronger and bigger than ever before. She is playful and curious and loves my daughter's snuggles and endless attention. In fact, she has grown so big that we needed to upgrade her cage to a bigger and yes, more expensive option.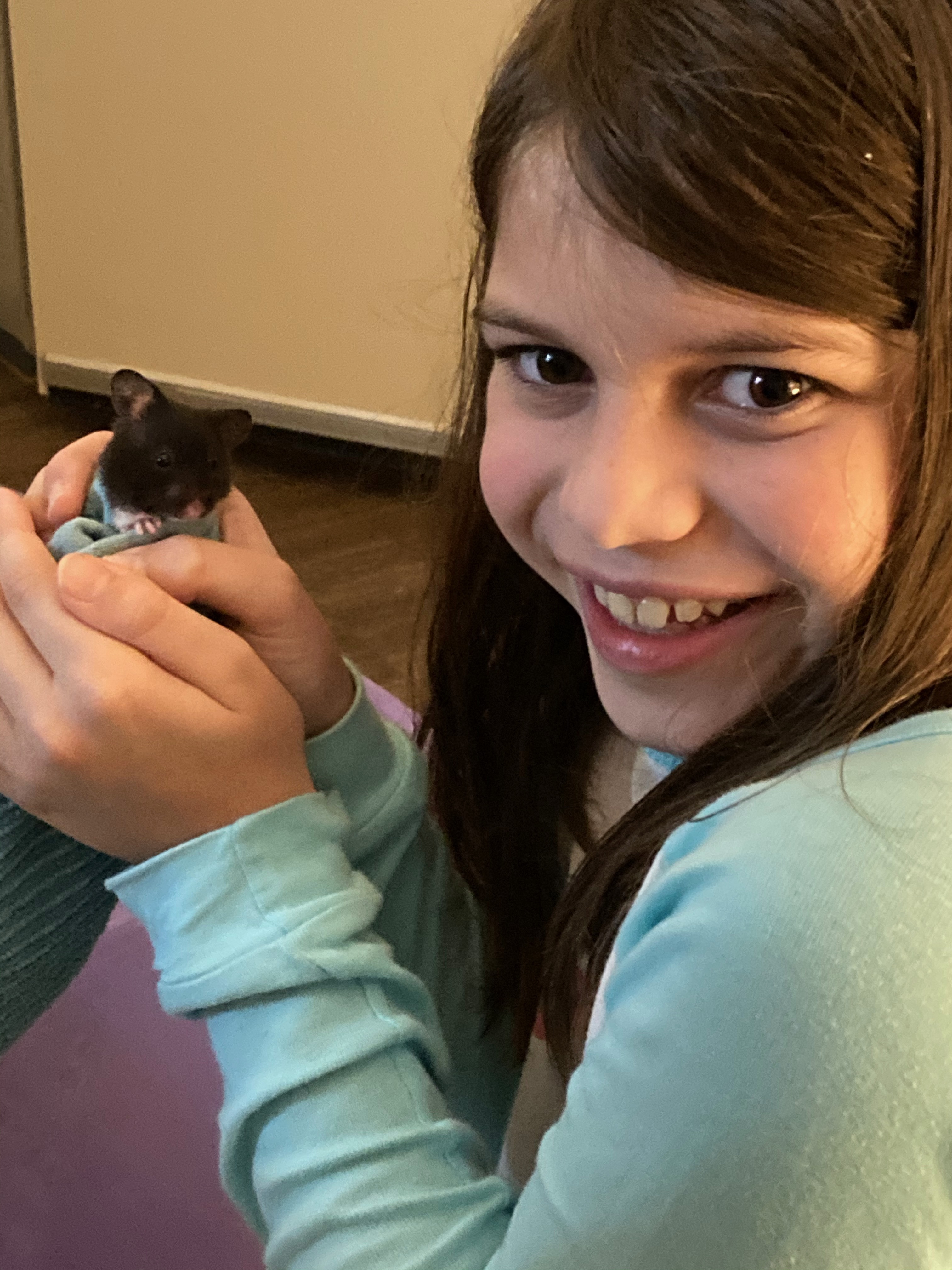 And just as our family fell into a routine caring for Pip, our life back home, after so many years abroad, slowly began to fall into place as well. My husband's work assignment was eventually sorted out, we bought a house, and the kids found new and old friends and adapted to a very different school year. We all found peace with the fact that after more than a decade of expat life, we had finally come back home--even if the world and home looked very different from what we remembered.
So while this year did not play out the way we intended, we are finding joyous moments through tears, patience, and a simple laugh when I look through my medicine cabinet and glance past the tiny syringes and the hamster hemorrhoid ointment.
And, you know what? Adopting Pip was the best $20 we could have spent this year. OK, the best $673 we could have spent this year. Not that this was ever about the money anyway.
Nicole Schaefer-McDaniel has been with Tales from a Small Planet since 2013. Her pet-less expat life has brought her family to Canada, Brazil, Austria, Mongolia, and Taiwan. Upon Pip's amazing recovery, her son begged to adopt two dwarf hamsters (two dwarf hamsters are roughly the same as one Syrian hamster so all remains fair in the sibling rivalry world) because they prefer living with a friend. Of course, in true "2020" style, Sniff and Mo have been fighting non-stop.