Letting Go
June 2019
By Nina Sichel
I am losing my hold on those things of theirs I insisted on keeping -- the armoire, the secretary, the furniture shipped from Germany to Uruguay to Caracas to Tampa, the things that surrounded me in my childhood and that I wanted to hold on to, to keep close.
Their dying was not unexpected but unplanned for. My father had always taken care of everything so we hadn't had to but he hadn't thought what to do about their things when the time came. Their treasured things. The things he said he didn't care about any more in his last years, but we thought that was just him getting old. So it was up to us.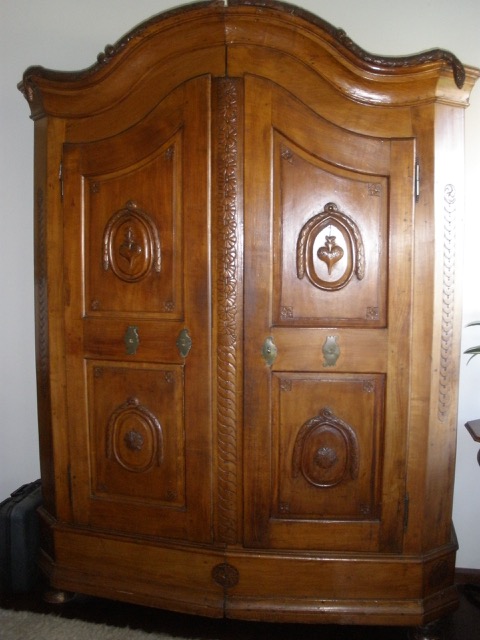 There were other antiques in the Caracas apartment, not just the German furniture, but pieces they'd chosen together -- things they'd gone out and looked for, selected in their own taste -- items we were told might be worth something. But not in Venezuela, where a communist-leaning government had taken root, and the people who could afford to buy these things were all leaving. We were advised to bring them to the States and sell them here.
I was not attached to the items they'd bought together, many of them purchased after I'd left home, but I wanted to hold on to the things from Germany. Why? For tales they might trigger, stories they might divulge? Was it because these pieces had been in the family for a few generations at least, and might hold part of their untold history, threads of my own identity, in their interior spaces? Might I hear whispers from a past I had no access to?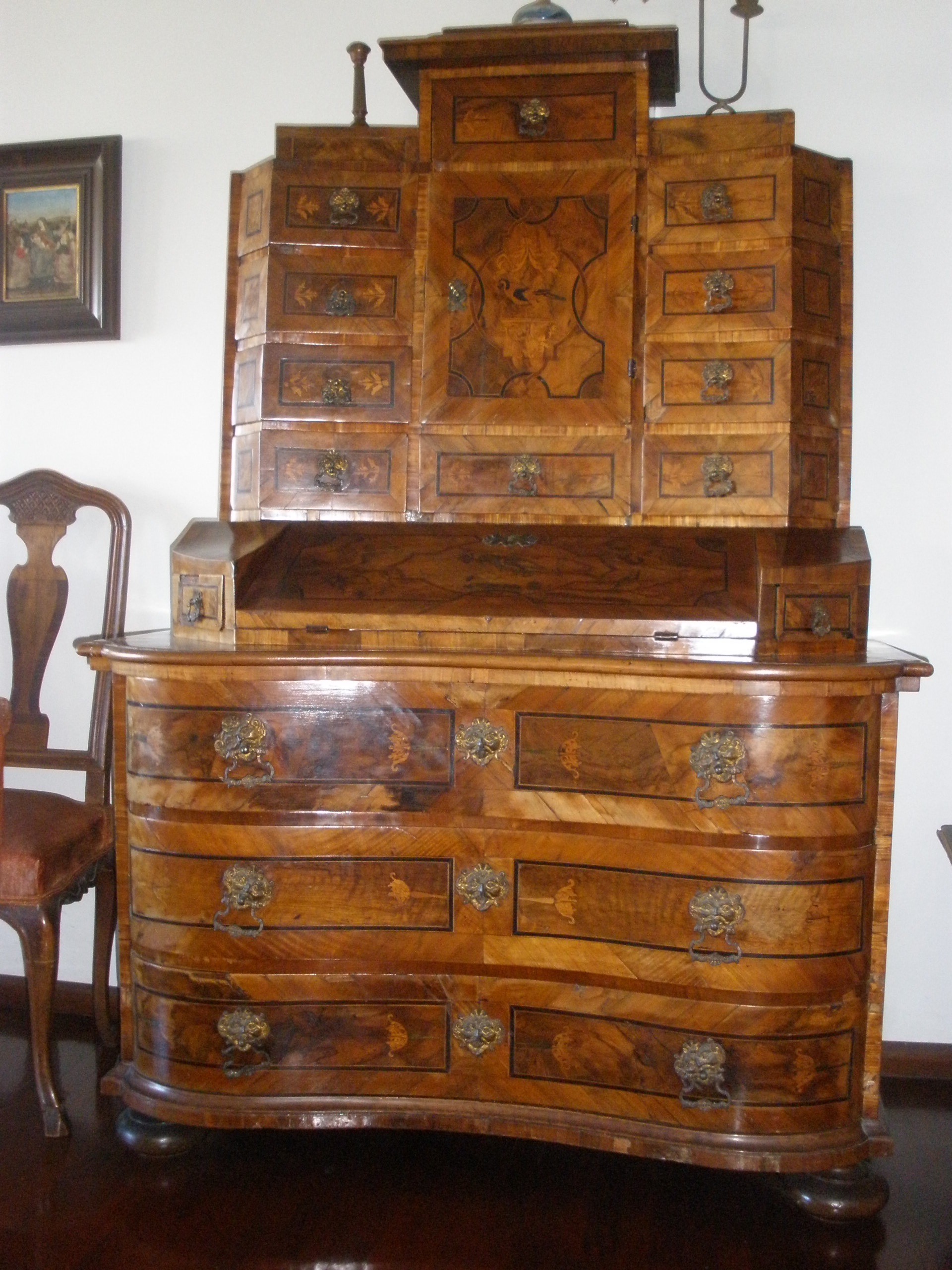 There were so few stories growing up. My father's early childhood in Germany was something he chose to suppress, or at least not talk much about. He was eleven when they left for Uruguay, ahead of Kristallnacht, but not before Nazi policies had already targeted the family, forcing the children to attend special schools, forcing my grandfather out of his profession as a lawyer, forcing a family to part. No, he would not spend time looking back, he would not share that part of his life with us.
I wanted his memories, but all I had were my own.
I remember where the pieces were placed in the homes we'd lived in, how my brother and I raced Matchbox cars around the borders of the Persian rugs laid before them. I'd even written about the armoire once, how when I went home I flung open its doors, and was washed in the scent of old wood, wine, ancient linens, and was flooded with memories. The secretary opened, its hinged folding piece flattening to make a writing table, revealing more hidden drawers inside for secret stashing. The drawers held every single passport from every family member back to the 1950s, but not before; Diners Club receipts from the 60's; my childhood letters, my parents' letters to each other, letters from my American grandmother far away in New York State.
My parents had moved often together -- they'd met in New York City after college, and married a year later, and moved again and again and again, adapting and sorting and tossing with each relocation -- to Puerto Rico, to the Dominican Republic, and finally to Caracas. Even there, in that big city, they kept moving, six times in my growing-up years, until they finally settled in this apartment with the things they chose to keep, this final home where my brother and sister and I had gathered to sort and toss, sort and toss.
We emptied the secretary and the armoire, we emptied closets. We kept the letters, we kept the passports, we kept the clues we thought we might have to the past. We spent days throwing out all sorts of other stuff. The Diners Club receipts, of course, but also my mother's medical records, payment stubs, old business correspondence, prescriptions. We went through closets and gave away clothes, costume jewelry, shoes, an electronic piano. We tossed out keys, scores of keys. Office supplies. Glassware, kitchenware, half-empty bottles of liquor. The everyday dishes we had all eaten from, recipe books. Games and jigsaw puzzles. Picture frames, but not the pictures. A manicure set. Purses, sheets, towels, crocheted blankets -- the stuff of a lifetime. The stuff of several lifetimes. The little things that made those lives, the barrettes that held someone's curls away from her face, perfume, after shave. The lotions they had used on their aging, drying skin.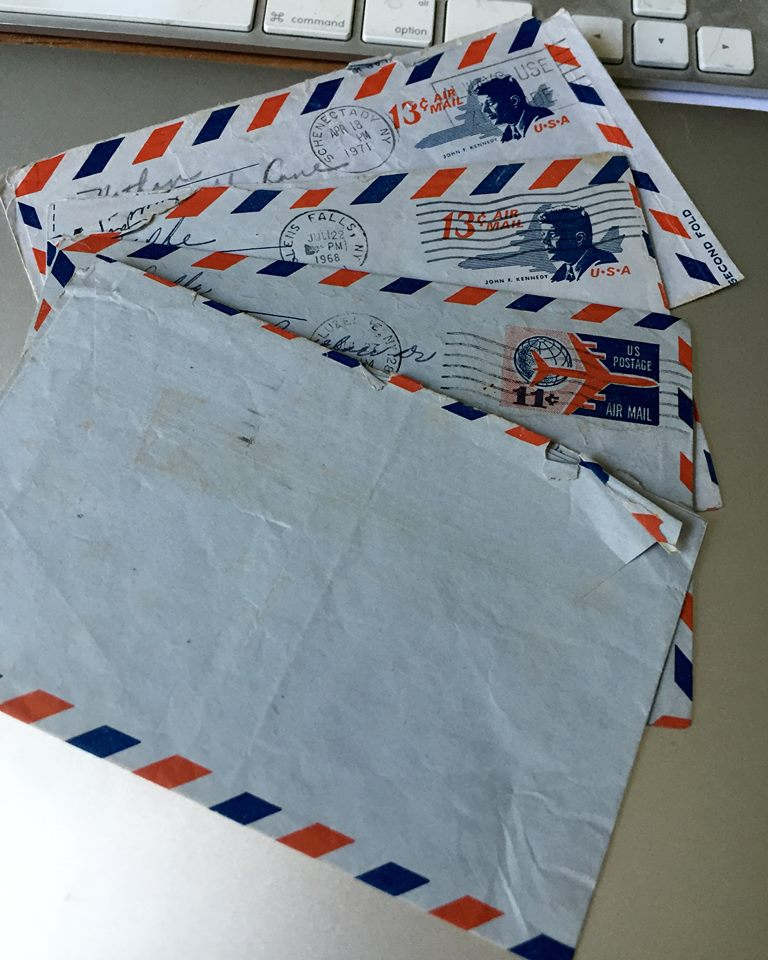 So few things kept, so much stuff gone. The tapestry of their lives unravelling as we tossed, filaments of memory set loose, lost.
I brought the letters and passports home with me and they sit in a box in my house, unopened, severed from the place they'd been saved in all those years. All the old furniture was shipped to Tampa, where we were told by dealers that people were downsizing as they moved in retirement to Florida, and nobody wanted heavy dark old antiques. We put the furniture in a storage unit, as dealer after dealer told us the same thing. They could not see what I valued most. All they could see were the casings, the furniture like cast-off husks, they were blind to the web of connection I still felt in their empty spaces. Gossamer threads I was not yet ready to release, not then, even as they were already slipping from my grasp.
And now, some time and distance later, after all the sorting and choosing and tossing and claiming, I am left wondering if we are as defined by the things we let go of, in the long run, as we are by those we keep close. How we choose. How sometimes we want to forget, in discarding, in purging, and how sometimes the act of letting go is what is best remembered.
©2019 by Nina Sichel. All rights reserved.
Nina Sichel is co-editor of two collections about cross-cultural international childhoods, Unrooted Childhoods: Memoirs of Growing Up Global (2004) and Writing Out of Limbo: International Childhoods, Global Nomads and Third Culture Kids (2011). They include her reflections on growing up American among expats in Venezuela. Her work has also appeared in The American Journal of Nursing, International Educator, Brain,Child, and elsewhere, and she has blogged about TCKs for the Children's Mental Health Network (www.cmhnetwork.org). She leads theme-based reflective writing and memoir programs near Washington, DC, and is available for presentations and travel elsewhere. Contact her at [email protected] or via Facebook.