Craig Gerard of Stone Soup PDX
May 2019
By Jeannine Alter
The well-known Stone Soup story is fitting for a readership of itinerant expats, since it spans across both cultures and history. In the French version, the travelers are three hungry soldiers returning from war; the villagers hide their food from them until the soldiers convince them to contribute what they can spare to make a meal together. In the Chinese version, the three travelers are monks, who make a soup with the willing help of the villagers. In the Native American story, bears come to a grandmother in her dreams and show her where to find food to make the soup that will feed her family. There are Scandinavian, German, Russian, Hungarian, and Portuguese versions of the same story. Despite the differences in place, characters, and time, however, the moral of the story stays intact: at its core, Stone Soup is a story of a community coming together and offering what they can to create something grand.
This profile is the story of Stone Soup PDX. Here, the travelers are a Foreign Service family, led by Craig and Ronit Gerard, who go home and ask their community to help them feed, train, and give jobs to the homeless. Instead of a book, their "stone soup" is a non-profit enterprise in which they train people at risk of homelessness to become food industry professionals. In so doing, they are changing their community by asking it to invest in that change.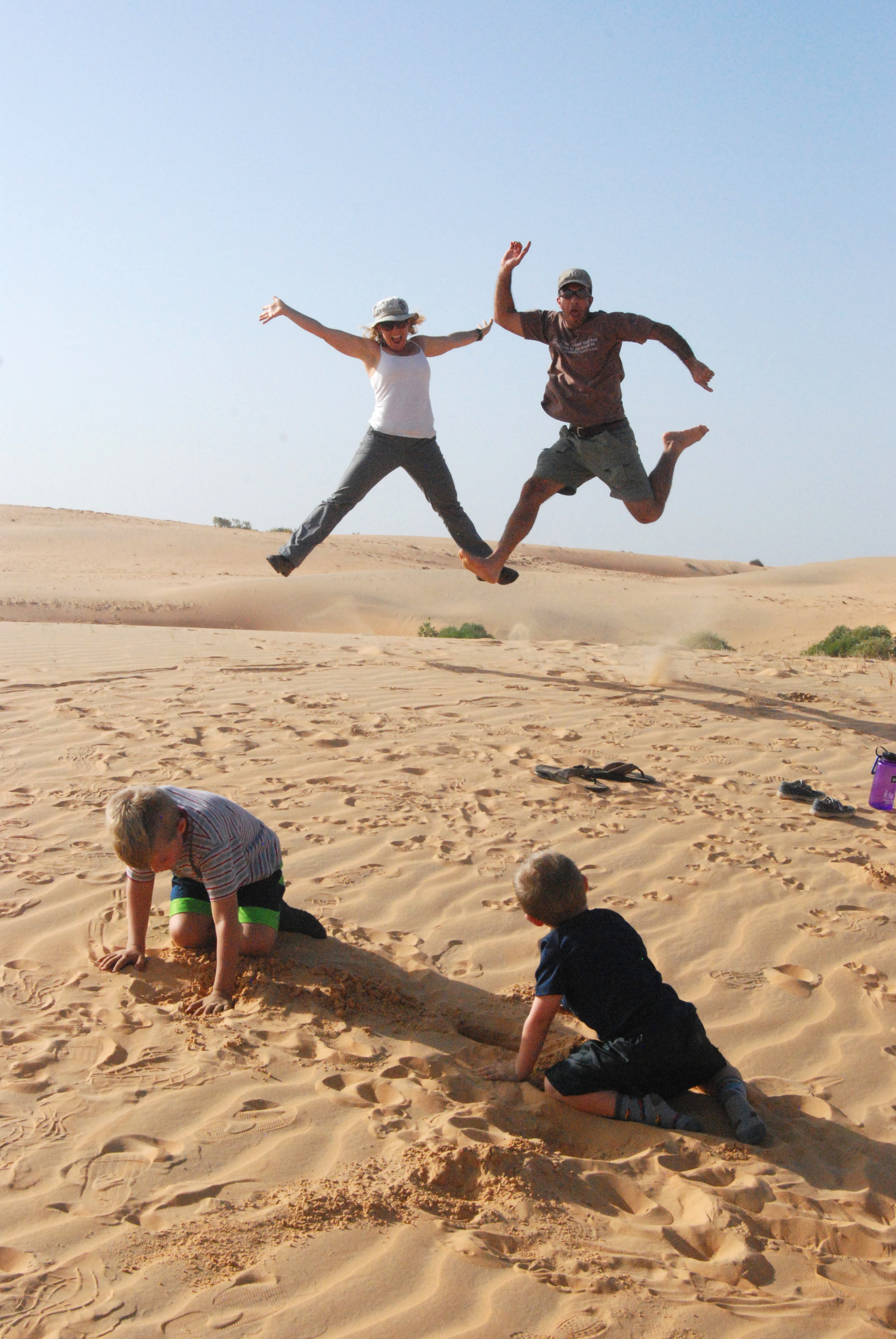 Stone Soup PDX is not the Gerards' first foray into community-driven service work. Some might even say that their 15-year relationship is defined by service. On their first date, in fact, Ronit expressed to Craig how important it was for her to work in the development world in her professional life. At the time, Craig was booking entertainment gigs for a talent agency in San Francisco, and Ronit, a Peace Corps alum, was teaching former gang members to do public works, landscaping, and conservation work. Her commitment to service inspired Craig, and the intervening years of their courtship, which included an unforgettable trip back to Fougoulou, Senegal, where Ronit had been a Peace Corps Volunteer (PCV), planted the roots of his own commitment to serving others.
A few years after that first date, Craig and Ronit moved to Washington, D.C., where Ronit trained as a U.S. Foreign Service Officer with USAID, and Craig became the Community Service Director for the Jewish Community Center. At the JCC, Craig worked with vulnerable urban populations, particularly those living in low-income housing. In a program named Behrend Builders, Craig organized volunteers to help repair, rebuild, and renovate low-income homes, schools, and community centers. With USAID, Craig and Ronit embarked on many international experiences together: Cairo, Egypt; Phnom Penh, Cambodia; and, Dakar, Senegal. As an ever-adaptable accompanying spouse, Craig worked as Community Liaison Office coordinator at Embassy Cairo; as a Public Affairs Assistant in Phnom Penh; and as a professional associate in Public Affairs in Dakar. It was in Phnom Penh, however, where the first seeds of their stateside project, Stone Soup PDX, were sown. On a long car trip exploring the countryside of Cambodia, they reflected about how they could continue their commitment to service work once they returned to the US. After doing some research, they decided that they wanted to work in the food industry but didn't want to stop at giving hand-outs; rather, they imagined a non-profit business that could provide life skills, culinary job training, and eventually permanent employment.
While posted to Dakar, Senegal, they were able to spend time in Fougalou, the village where Ronit had previously served as a PCV. While driving for hours on the weekends to and from the village, Craig and Ronit crafted the business plan for their idea. They named it Stone Soup after the bedtime story they had read to their two small children when they arrived in Senegal. In the version of the story that they read, a lone traveler arrives in a new village and cannot find anyone to share a meal with him. 1 The villagers only seem to have one ingredient or spice in their respective homes; thus, the traveler invites all of them to bring their ingredients out to the square, and there, among the whole community, he cooks for them, and they share the meal together.
After coming up with the plan and the name for their business, they focused on making connections in Portland, Oregon, where they wanted to base Stone Soup PDX. Meanwhile, in addition to their US government work in Dakar, Craig and Ronit also wanted to help the villagers in Fougoulou. On one of their weekend visits, they learned that many of the villagers were frequently getting sick, and they realized that the sickness seemed to stem from inadequate knowledge of sanitation, hygiene, and nutrition. Thus began a massive three-pronged volunteer effort in which Ronit and Craig and their children, known as Team Gerard, devoted many of their weekends—eventually in their own hut designed by the villagers—to helping address the needs of the village. First, they provided materials to build more toilets, so that each compound had its own (when they started there were only 12 toilets for around 500 people), and taught them the importance of washing their hands, at water stations that they also built, to prevent the spread of germs. In the second phase of their project, they helped the villagers dig a large community garden, with a new well provided by the chief, so they could grow fresh fruits and vegetables in order to provide more nutrients and vitamins (also to prevent sickness) in what had been a primarily grain-based diet. Finally, they helped to refurbish the school by providing new desks and chairs, erecting a fence around it to protect it from animals, and donating new materials. For their work, they received the prestigious Secretary of State Award for Outstanding Volunteerism Abroad (SOSA) in 2016.
When the Gerard family left Senegal, in 2017, and moved to Portland, Oregon, Craig became President of Stone Soup PDX. Ronit continued working for USAID in the Bureau for Food Security, initiating projects related to food and nutrition in developing countries, while also providing support for the launch of Stone Soup PDX . Thanks to Foreign Service friends they had met in Senegal, they networked with FareStart, a 27-year-old non-profit organization based in Seattle, that helps vulnerable communities break the cycle of poverty by providing job training in the food-service industry. The people at FareStart served as mentors, sharing the content of their food service curriculum and staff training program, and helping the Gerards learn how to manage referrals with social service agencies around Portland and how to make lasting connections in their new community.
In October of 2018, Stone Soup PDX officially began operations. Since that time, Craig and Ronit have created a polished website, https://www.stonesouppdx.com/; they've filed as a non-profit; signed a lease on the restaurant where their program participants will practice and hone their new skills; partnered with several restaurants in Portland where their participants will intern in their third month of training (and perhaps gain employment thereafter); and raised their first $100,000.
But their bigger goal is to present Stone Soup PDX to their community, and to the larger world, as a social enterprise, with the revenue to fund it coming from the meals their program participants serve in the very restaurant where they are also honing their culinary and food-service skills. Like the meal cooked by the travelers and villagers in the Stone Soup story, Stone Soup PDX relies on the generosity of donations, with everyone giving a little bit of what they can, to help create something amazing that will make their community stronger. The U.S. Foreign Service community has been part of this effort during April 2019, through the "Around the World 5K," a grassroots initiative in which people run or walk five kilometers wherever they are in the world and donate to a chosen cause; this year, over $4000 -- and still rising -- has been raised for Stone Soup PDX. If you'd like to add something to the "soup" as well, so to speak -- running is optional! -- you can donate here: https://www.stonesouppdx.com/donate
1 The Stone Soup story that the Gerards read to their sons was adapted by Mary Rowitz and originally published by Publications International in 1996 and reissued in 2005.
©2019 by Jeannine Alter. All rights reserved.
Jeannine Alter is a freelance writer, teacher, and consultant, as well as a volunteer for Tales from a Small Planet. She currently resides in Buenos Aires, Argentina, with her Foreign Service family.