The Flight of Pegaso
January 2013
By Marlene Monfiletto Nice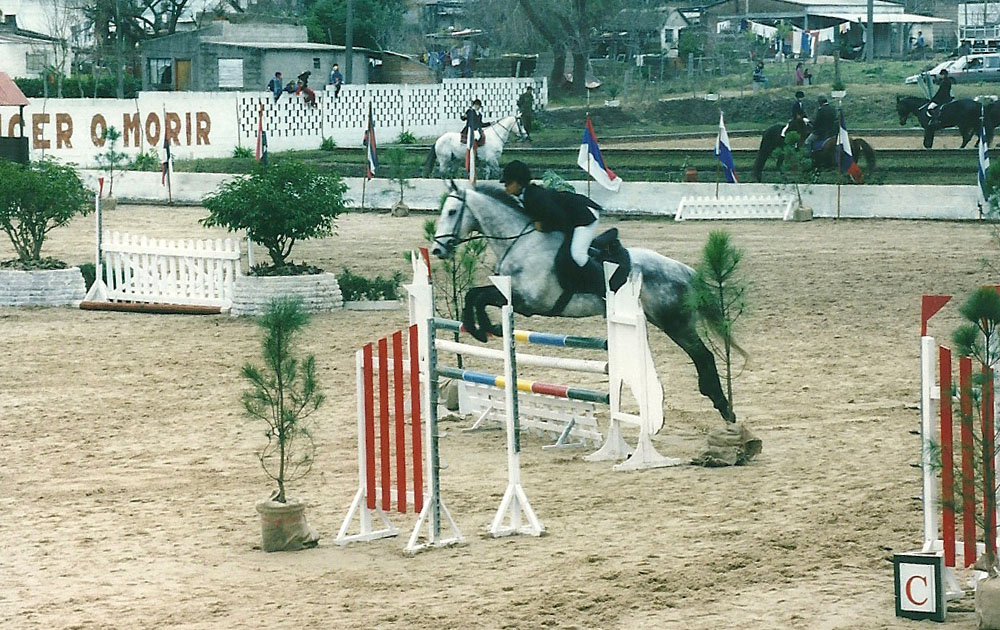 I knew that day would come.
With two avid horseback riders in the family, it was inevitable that we would buy a horse.
In Uruguay, it was not only easy and affordable, it was necessary so that our older daughter, Andy, could progress in her chosen sport.
When we bought Pegaso, an 8-year-old thoroughbred, we intended to keep him a year, sell and move on. Andy agreed to think of it as one of the lease situations we had entered into in the past. But something happened along the way: We all fell in love with Pegaso. Horses in Uruguay are special – super-friendly, happy competitors – andPegaso was a gem, even among them. So, as we started planning our pack-out in Uruguay, we considered adding one more complication: Pegaso.

Foreign Service families cart around a lot of things for various reasons – remembrance, comfort. Sometimes we don't even know why. I know families who can't bear to live without their own pianos. A friend with two young daughters has so many boxes marked "Barbie," the movers always think it's a third child.

A Foreign Service spouse told me she moves with her sourdough starter, a glob of gray goo. A friend in Ankara brought her theatrical prop basket, including a Statue of Liberty crown, Martian antennae and the like.

A Foreign Service officer packs up his treadmill, sets it up in the next place and never sets foot on it. An information management specialist said he has boxes and boxes of photos that neither he nor his wife has looked at in years.

One embassy official went through great pains to transport her daughter's two pet turtles to the U.S., even after she was advised to secretly replace them with identical ones in the States. As I asked for advice on the horse-shipping matter, I heard mostly, "Are you crazy?" "You're kidding, right?" and "Just sell it and buy another in the next place."

Those advisors had never experienced a dreadful farewell scene between a girl and her beloved horse. Twice I've had to pull Andy and her younger sister, Chrissy, away from a favorite horse, while they sobbed hysterically, their fingers entangled in the horse's mane, the horse whinnying in anguish, because he also feels the pain of the separation.

I figured there were two ways to avoid such a scene in Uruguay – first, leave post early and let their Dad deal with it. Or I could take the horse to our next post: Zagreb, Croatia.

It's common, albeit costly, for Uruguayan horses to be shipped to Europe for polo and endurance competitions. As I said, the horses in Uruguay are exceptional and relatively inexpensive. But it wasn't just about the money. It was about making the transition from one post to the next easier and helping the children cope with a lifestyle that was forced upon them.

I remember seeing that panicked look flash in their eyes as they realized that tour was winding down. And I could imagine the look of delight and anticipation they would have for our next post if they knew Pegaso were going to greet them there.
It wasn't easy. Before leaving Uruguay in July 2004, we contacted a local horse shipper, who assured us that he would find two other horses going to Europe in the next six months to share the cost of the plane fare. Several months later he still didn't have any prospects, unless we wanted to pay the exorbitant fee of shipping him solo. Finally we learned there was a plane-full of horses going to Europe in the next month. Pegaso could go too, if we could get him to Buenos Aires on time. Our original shipper was willing to trailer Pegaso to the airport in Buenos Aires.
We just had to wait and pray that all would go as planned. But wouldn't you know? President Bush was due to land in Frankfurt, Germany, the same day as Pegaso and the airport was to be closed. On hearing this, the Argentine shipper refused to put Pegaso on the plane until the shipper in Germany who was receiving him cleared the way. Pegaso's plane was purposely delayed in Spain so the president's entourage could be cleared out by the time Pegaso arrived.


It was practically a blizzard that day in February when Pegaso arrived in Zagreb, Croatia. You could see the shock on his face when he was led out of the trailer.

"Que es esto blanco? Es muy frio." The girls pretended he was talking to them. They were thrilled with sharing the first snowfall of winter with their cherished friend from Uruguay. Andy, 16, had prepared a special stall for Pegaso, where he could serve the required quarantine.

We let them skip school so they could be at the club to welcome him. We expected him to arrive at 9 a.m. But the blizzard and slow border crossing kept Pegaso in a trailer until late afternoon. The wait seemed unbearable after it took so long to make the arrangements to get him there.

The trip wasn't easy on Pegaso either. It took a month to get him back into shape. But Andy took care of him and trained with him, and by summer they were competing with jumpers throughout Croatia.

I was in training in Washington DC when Dennis called to let me hear the music while Andy and Pegaso had their first victory ride around a ring in Europe. Pegaso and Andy took third place in the 1.10 meter and from then on, the Croatian horse circuit was abuzz with the American girl and her Uruguayan horse.

"Mar, the smile on Andy's face today makes it worth all the trouble," Dennis said.

By September, Andy was ready to enter the real competition in Europe, which starts at 1.20 meters. The club owner/trainer had some doubts about Pegaso.

"The horse has a good soul and a big heart," she said. "If you push him to jump 1.20 meters, he'll do it because he loves you, but you will ruin him."

Because Andy also had a big heart, she handed Pegaso's reins over to Chrissy, just in time for Chrissy's 12th birthday. Andy traveled to Italy to find a bigger, more powerful horse, Polido. Chrissy began training with Pegaso to jump in the junior categories in spring competitions. She got into the spirit of the nightly trips to the club to train and take care of the horses.

When the winter 2005's first snowfall came in December, Pegaso was eager to investigate. The girls walked him on cleared paths to see the snow. They giggled when he touched it with his nose and frolicked like a puppy.

In late January the snow still hadn't melted and the horses couldn't be turned out into the fields. Instead, they were brought outside by the groom every morning to walk on an exercise machine, a treadmill for horses. One Friday, the groom was bringing the horses out when Pegaso broke free and ran into the field. At first, the groom said, he looked like he was frolicking again in the white landscape. But the snow wasn't soft and powdery anymore. Instead it was a slick and hard sheet of ice, and when he galloped and kicked on top of a solid patch, he lost his footing and fell hard on his shoulder.
My husband was called to the barn at about noon. As soon as he'd arrived, he phoned to tell me what he'd learned. I just wanted to know if Pegaso got up, because, when horses stand up after a fall, they're usually OK. So, when Dennis said Pegaso was standing, I felt relieved. But what he didn't tell me was Pegaso was standing on three legs.
Dennis waited while the veterinarian from Zagreb gave him pain medication and tried to X-ray his leg. Several hours later a vet from Graz, Austria, arrived with more modern equipment.

I rushed to meet Andy at the bus stop near school. She had a free afternoon after finishing mid-term exams. When I told her Pegaso had fallen, she rushed to the barn on the city's buses and trams. I had to go home and tell Chrissy, but I still thought Pegaso's injuries weren't serious. Finally at 5 p.m. Dennis said he would send a taxi for us because they were putting the horse down. The X-rays showed the bones in his shoulder had shattered and could not be repaired.
We arrived at the barn to find him in a different stall, closer to the door where Dennis and three other men had practically carried him to get him out of the cold. His left front leg was curled under and hanging from his shoulder. He comforted himself by putting his head in Andy and Chrissy's arms.

"He doesn't want to die," Andy wept as she fed him carrots. "He just wants someone to make him better."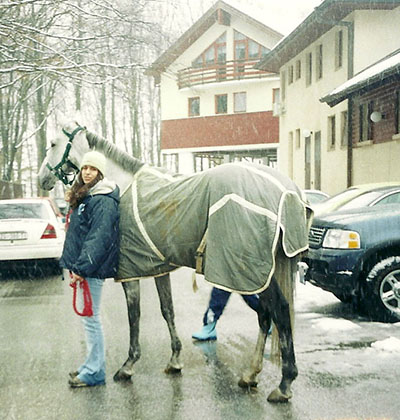 I pulled aside the vet and begged him. "Just fix him so he's not in pain. He doesn't have to jump anymore. We'll keep him as a pet."

"I could try…" he said, but went on to explain the problem of the horse's body weight being too much for his legs. And if he put metal screws in the shoulder to hold the bones together, it could all break apart again when Pegaso stood up for the first time.
The barn owner pulled me aside. "I tried to save one of my horses once," she said. "And she didn't make it. Pegaso won't make it to Austria in the trailer. He'll die first from the pain and he'll suffer a lot."

Another friend had called a veterinarian in Slovenia to ask his advice. He said the same.

I looked around. A crowd had gathered around the stall. A group of girls who ride at the club were crying and holding hands. Our barn friends, Croatians, were crying as well. Andy's trainer, who had trailered the horse from Frankfurt the year before, had come to the barn when he heard the news.

Riders came at their usual time and learned the sad news. They petted Pegaso and touched the girls' shoulders. But no one offered any hope of saving him.

Chrissy and I sat in the cafe while they brought Pegaso out to the trailer. The vet and the barn owner, her father, her husband and some other friends helped Pegaso stumble down the path. Andy held Pegaso's head as he fell into a deep sleep and then breathed his last. She murmured to him in Spanish as she had done all year with her riding commands and rewards.
"Tu es buen caballo. Te amo," she said.
© 2012 by Marlene Monfiletto Nice. All rights reserved.
Marlene Monfiletto Nice is a Public Diplomacy Officer with the U.S. Department of State. She and her husband, Dennis Nice, also an officer, have served overseas for the past decade in Turkey, Uruguay, Croatia, El Salvador and Austria. Prior to entering the Foreign Service, Marlene was a journalist and worked at the Asbury Park Press in NJ and the Reading Eagle/Times in PA. She has a BA in English from the University of Delaware. Marlene and Dennis have three children, PJ, who is a DS Agent, Andy, who is working toward her MFA at Boston University, and Chrissy, who will graduate in June and head to Flagler College, St. Augustine, Fla., in the fall 2012. Both girls have continued riding and competing in the U.S. and overseas. The family still owns Polido, the horse they bought while in Croatia. aAndy rides him outside of Boston. But they have since only leased horses. Chrissy currently rides a mare, Ruschka, in competitions in Austria.