Check out the five-star reviews here! Tales from a Small Planet is delighted to present our first book of
 essays edited by our volunteer team and contributed by writers all
 over the world:
A Cup of Culture and a Pinch of Crisis
Tales from a Small Planet: The Food Edition
Edited by Leah Evans, Katie Jagelski, Patricia Linderman, and Nicole Schaefer-McDaniel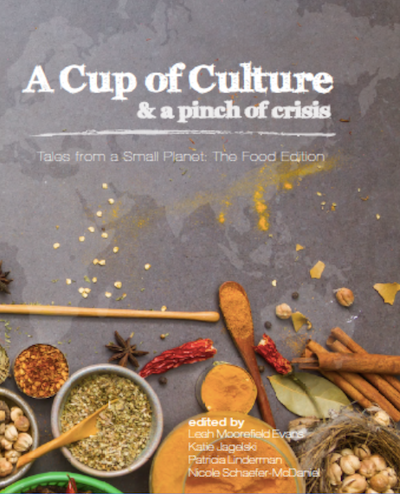 A Cup of Culture and a Pinch of Crisis is a collection of essays from expats around the world who share their insights about food, personal growth, and the adventure of living abroad. Delve into new countries, traditions, and cuisines, from Mexico to Mongolia, as you learn how expats find the ingredients for their next meal, learn to love strange new dishes (like camel meat!), and bond with the people they meet over meals both exotic and humble. This book will make you hungry to travel abroad, or at least to settle for a taste of a different culture by trying one of the many included recipes. This is the first book published by Tales from a Small Planet, the web magazine where readers learn "what it's really like to live there" in countries around the globe.
Order your copy on Amazon by clicking here.
For questions or information about bulk orders, contact Leah Evans at leah@talesmag.com.
Find out more about our writers, recipes, and locations on our Facebook page.
Special thanks to our cover designer, Lauren Ketchum of Ketchum Creative and all of our writers who wrote the following essays:
Safe Haven on the Spice Route, by Shannon Leavitt
Maslenitsa, or How I Found Warmth in a Russian Winter, by Mara Rutherford
Eating Japanese, by Laurie Tasharski
"Nǐ chīfàn le ma?": Have You Eaten Yet? by Melinda Frost
Cooking with Oma, by Nicole Schaefer-McDaniel
A Seder Story, by Annie Pforzheimer
A Year in the Land of Plov, by Sarah E. Morrow
My Fairy Godmother Was Disguised As A Housekeeper, by Julie Tully
The Tbilisi Cooking Club, by Lauren McCaughey
Perogy Pinching in Indonesia, by Lisa Webb
Buss-Up-Shut and Gay Trinidadians, by Patricia Linderman
Peace of Pie, by Katie Mastin
One Hump or Two, by Lindsae Negri
The Greek Pumpkin, by Lauren Panteleimonitis
Manes, Tails & Mansaf: What an Egyptian Stable Hand, a Syrian Groom and a Jordanian Trainer Taught Me about Life and Culture in the Middle East, by Misti Freeland
Grape Leaves and Borscht, by Leah Moorefield Evans
Pizza Power, by Dina Bernardin
Eating My Way Home: A Culinary Quest along a California Street, by Jennifer Richardson
Growing Home in Tokyo, by Joan Bailey
A River, a Lost Wedding Ring, and a Little Girl with a Butcher's Knife: Our First Expat Thanksgiving, by Angela H. D'Amato
From Djibouti to Mumbai: A Culinary Voyage, by Gretel Backman Patch
Packable Pupusas, by Tara Knies-Fraiture
Baking the Long Way Home, by Barbara Gravinese
Learning from a Laid-Back Country, by Kathi Silva
Hungarian Christmas: Self Discipline's Nemesis, by Laurie Kelleher
Arepas, by Jeannine Alter
Going Back to Move Forward: An Expat in Durban, South Africa, by Lucille Abendanon
When the Menu Reads "Vegan", by Emma Tasharski
Delirious in DF, by Jeremy Holliman
McGuyvering Thanksgiving in Astana, by Lynne Madnick
Finding the Divine in a Bowl of Rice, by Wendy Jones Nakanishi